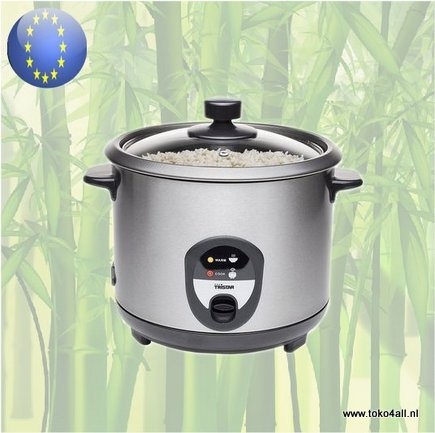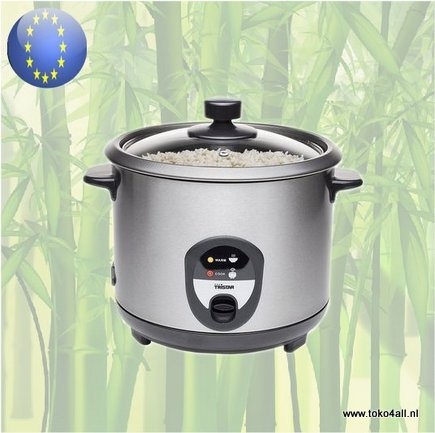 Electric Rice Cooker stainless steel RK-6127
€44,95
Electric rice cooker stainless steel RK-6127 of Tristar, from now on you will cook the tastiest rice which is ready in no time!
In stock (1)
(Delivery timeframe:1-3 days)
Electric Rice Cooker stainless steel RK-6127
With the RK-6127 Tristar rice cookerfrom now on you will cook the tastiest rice which is ready in no time!. The rice cooker automatically shuts off when the rice is finished and will switch to a warm function with a temperature of 70 à 75 ° c. With this beautifully looking rice cooker with a capacity of 1.5 liters and rated at 500 Watts you have a beautiful addition to your kitchen. The use of a rice cooker is perfect and easy to use. You just have to put water and rice in the pan and the cooker does the rest. Because of the automatic dry boil protection you don't have to worry any further.
The capacity
The rice cooker has a capacity of 1.5 litres, this is enough for up to 10 servings of rice. Of course you can also cook less in this pan if desired. This rice cooker is great for large families but also very usefull if you have a party and you want to serve nice warm rice. If you serve rice with this rice cooker, it does not only taste good, it will also look presentable.
Cleaning
The rice cooker has a removable inner pan with a non-stick coating. This ensures that the rice will not stick and makes the pan also easy to clean. Please note that no sharp metal objects can be used when scooping the rice. The non-stick coating could be damaged. For scooping the rice please use the plastic spoon included in this box.
Content and description
Stainless Steel housing
Volume : 1,5 l.
Inner pan with non-stick coating
Removable inner pan
Keep warm function
Boil dry protection
Spoon, measuring cup and Spatula
Anti Slip Feet
Power indication light
power 500 watt
Instructions:
Measure rice with the special measuring cup and wash in a separate bowl
The size marking on the inside of the pan shows the water levels with the rice
Place the cooking pan in the sleeve
Close the lid
Put the plug in the socket and push the switch down. The "Rice Cook" light comes on
When the rice is ready, the switch will shoot up and it will only keep the rice warm
Let the lid stand for about 15 minutes with a closed lid so that the rice can still steam a little
Stir the rice with the plastic spoon
Remove the plug from the socket and place the rice cooker on the table
Also know as: Rice Cooker, Reiskocher, Cuiseur à Riz, Cuociriso Elettrico
Country of origin: Europe
Brand: Tristar
Code: 8713016009944
Content: 1 st. 4 - 10 persons