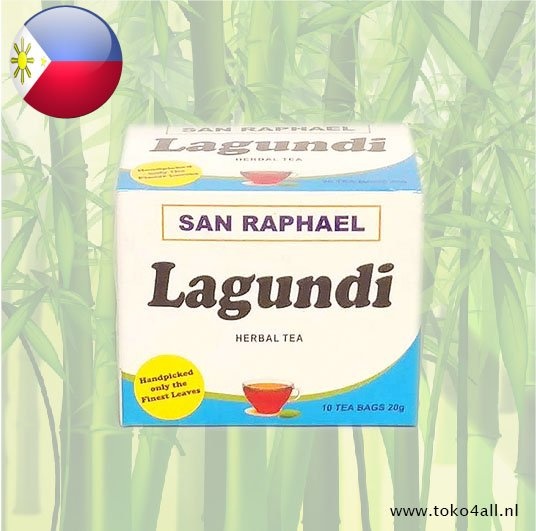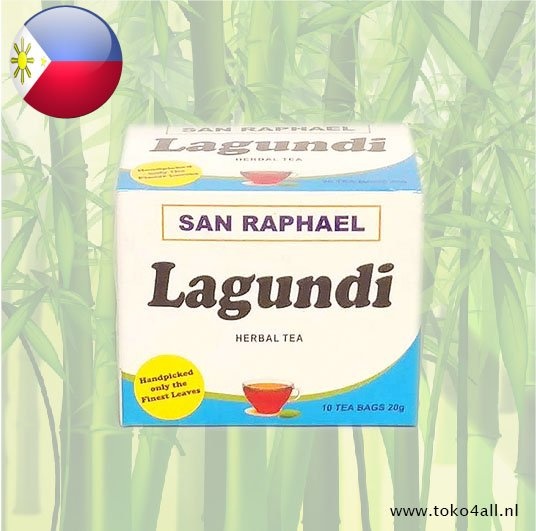 Lagundi tea 20 gr
€2,50 €2,75
Lagundi tea is a green tea without additives that is traditionally known in the Philippines as a medicinal herb.
In stock (9)
(Delivery timeframe:1-3 days)
Lagundi tea
Lagundi is a large shrub that grows in tropical and super tropical areas. The leaves of this shrub form the raw material for the tea. The shrubs for the herbal tea of San Raphael are grown organically. This tea is a Filipino herbal tea without additives. The tea is processed locally and packed in boxes with 10 tea bags of 2 g each. Except for tea as a thirst quencher, Lagundi is used in the Philippines as a medicinal herb for respiratory complaints and as a painkiller. There are no restrictions on the use of Lagundi Herbal Tea and you can drink it all day long.
Preparation
Let a tea bag infuse for at least 2 to 3  minutes in a glass or cup of boiled water
Storage tips
Keep the tea in a cool and dry place.
San Raphael Herbal Products
Lagundi herbal tea is a product of San Raphael Herbal Products. The herbs for this tea come from the province of Quezon on the island of Luzon, an area known for the organic cultivation of herbs
Ingredient:
Lagundi leaves
Also known as: Lagundi
Country of origin: Philippines
Brand: San Raphael
Code: 4809015071076
Content: 10 x 2 gr