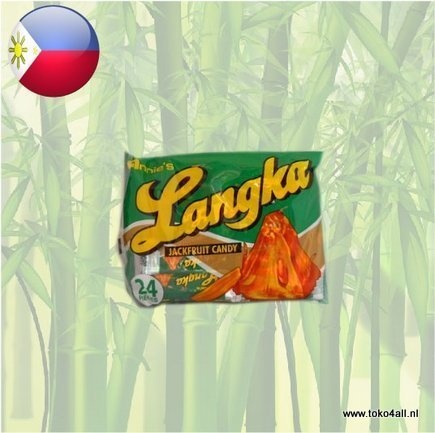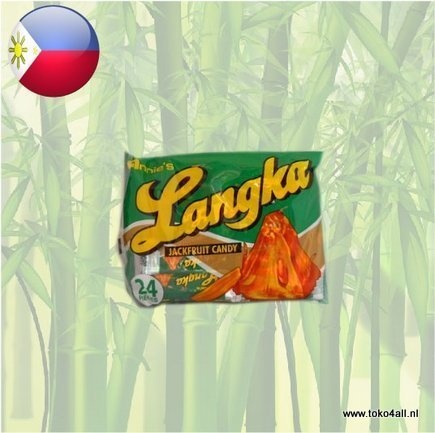 Langka Jackfruit Candy 160 gr
€1,50
Langka sweets from Annie's are small for packaged sweets with the special Jackfruit flavor.
In stock (12)
(Delivery timeframe:1-3 days)
Langka Jackfruit Candy
These sweets are a typical Filipino delicacy. The sweets are made from jackfruit and therefore have the special yellowish color that is so typical of jackfruit flesh. These sweets from Annie's are also available in the special Ube (purple potato) version.
Langka
Also called Jackfruit or nangka and is a fruit that grows on a tree and has its origins in India. The fruits can weigh up to 40 kilos. The fruit is pear-shaped and can have a length of 100 cm and 50 cm wide. The outside is brownish green and has sharp edges. The ripe flesh is yellowish and tastes slightly sweet and has a sweet odor. The fruit stands out due to the high starch content of 30%. The jack fruit is one of the largest fruit growing on a tree. Young unripe jack fruit is used as a vegetable. The large seeds in the fruit are also used in Filipino cuisine as a dish in combination with coconut milk.
Ingredients:
Jackfruit 51%, Sugar, Milk Powder, Jackfruit Flavor 5%.
Also known as: Langka Snoepjes
Country of origin: Filipijnen
Brand: Annie's
Code: 4804888589994
Content: 160 gr (24 pcs.)