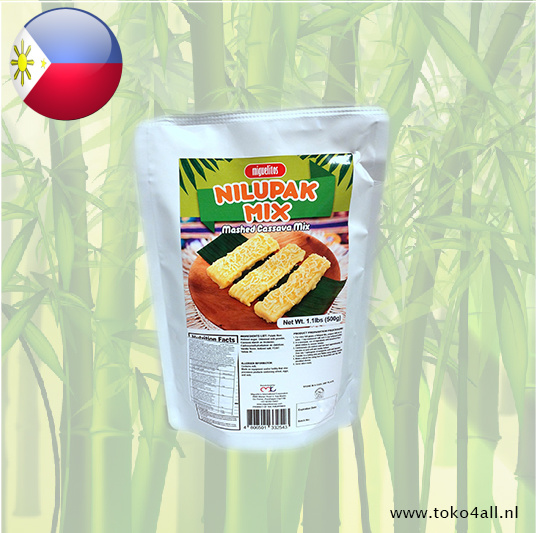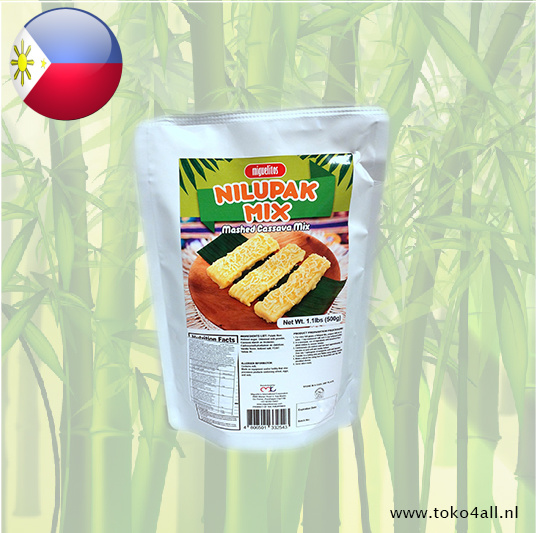 Nilupak mix 500 gr BB 09-08-2023
€6,50 €11,50
Nilupak mix from Miguelitos is an ingredient mix to make your own Nilupak in a quick and tasty way.
In stock (5)
(Delivery timeframe:1-3 days)
Nilupak mix
Nilupak is a traditional Filipino delicacy made from cooked cassava combined with butter, sugar or sweetened condensed milk. The mixture is mashed or pounded. The name of nilupak also refers a bit to the preparation method of pounding as it means 'beaten'. Various starchy fruits or roots can be used to make Nilupak. The most popular are the cassava and saba bananas when they are not yet ripe. Sweet potato and ube are also sometimes used. It is also known as nilusak, linusak, niyubak, linupak, or lubi-lubi, among many other names, in the various languages of the Philippines. It is also known as minukmok in Quezon.
Preparation method:
For every 500 grams of nilupak mix, prepare 800 ml of water, 1 cup (306 grams) of condensed milk and 1/2 cup (113 grams) of softened butter
Mix all ingredients in a saucepan until dissolved and strain the mixture to remove residue.
Stir the mixture continuously over low heat for about 30 minutes or until a smooth and mushy texture.
Next, mix 1 tablespoon of margarine until well blended
Transfer to a baking dish and flatten with a rubber spatula
Make a cut line with a fork for decoration and sprinkle with grated cheese
Serve when ready
Ingredients:
Potato flour, refined sugar, skimmed milk powder, cassava starch as a thickener, carboxymethylcellulose as a stabilizer, vanilla flavor, iodized salt, coloring E102.
Also known as: Nilupak mix mashed cassava mix
Country of origin: Philippines
Brand: Miguelitos
Code: 4806501332543
Content: 500 gr.