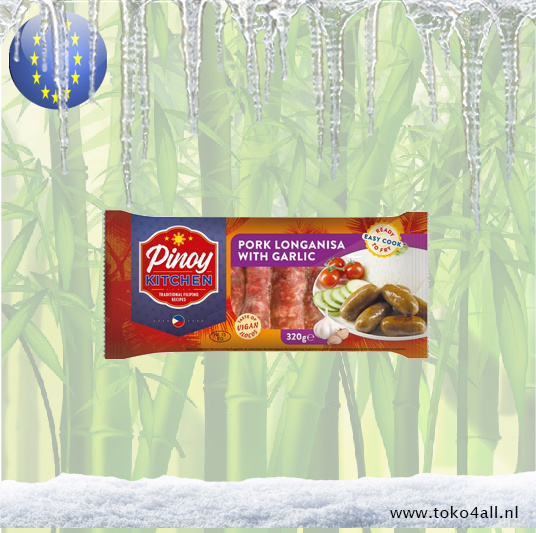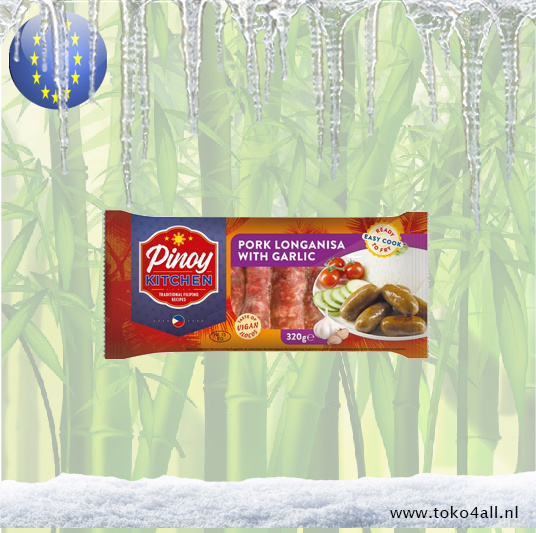 Pork Longanisa with garlic 350 gr
€7,95
Pork Longanisa with garlic from Pinoy Kitchen are nice sweet longanisa sausages with garlic in a traditional Filipino style
In stock (13)
(Delivery timeframe:1-3 days)
Pork Longanisa with garlic
Longanisa The term comes from the Spanish name Longaniza. The Philippine variant is compared to the Spanish Longaniza not dry and not ready for immediate consumption derived but must first be cooked. These sausages remind us a little of our little sausages. Unlike our sausages the longanisa are often a bit sweet. The sweet taste and recipe very much depends on the region where they are produced. This Longanisa is designed for anyone who wants to eat both spicy and sweet. The sausages are a delicacy and eaten as breakfast as well as dinner evening. One of the dishes where the sausages used to be his longsilog. A (fried) rice dish with fried eggs and sausages longanisa.
Cooking instructions:
Heat a small amount of 2 cm of water in a pot
Add the longanisa and cook them until the meat is cooked and the water evaporates.
Fry the longanisa in his own fat in same pot and put a little bit of cooking oil
Fry them until the sausages are brown.
Ingredients:
Pork, garlic powder, soy sauce (soybeans, iodized salt [salt, iodine], coloring E150c, wheat gluten, preservative E202, water), salt, pork casings, cane sugar vinegar (vinegar, coloring E150c, preservative: sulfur dioxide), stabilizers E450, E452, yeast extract, spices, antioxidant E301.
Also known as: Varkens Longanisa met knoflook
Country of origin: Europe
Brand: Pinoy Kitchen
Code: 8720165077823
Content: ca 350 gr. ( circa 8 pcs.)