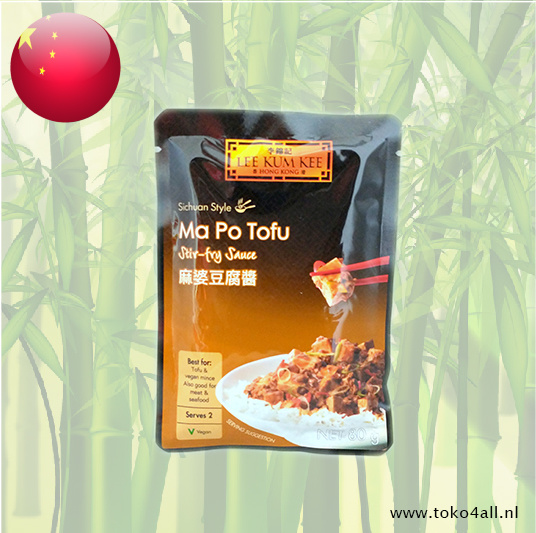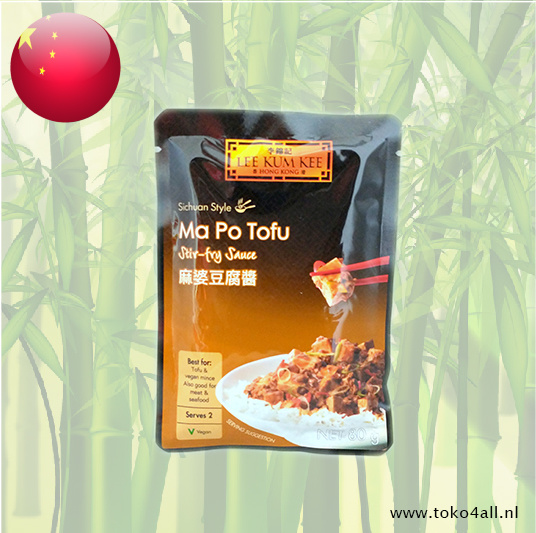 Sauce For Ma Po Tofu 80 gr
€1,10
Spicy Bean Ma Po Sauce from Lee Kum Kee is a basic sauce to make the Sichuan dish Ma Po Tofu yourself.
In stock (5)
(Delivery timeframe:1-3 days)
Sauce For Ma Po Tofu
Made ready in a wide range of flavor, lee kum kee menu oriented sauces bring delicious dishes and save you time in the kitchen. Prepared from selected Sichuan peppers and various spices, this sauce is great for the famous Ma Po Tofu Sichuan dish.
Necessities:
90 gr Minced pork
250 gr 1 piece soft bean curd (diced)
1 packet of lee kum kee sauce for ma po tufu
Procedure:
Stir-fry minced pork in 1-2 tbsp oil until cooked.
Add soft bean curd and lee kum kee sauce
For ma po tofu, stir well
Cook over low heat until the sauce thickens
Ingredients:
Water, fermented soybean paste (water, salt, soybeans, wheat flour), salted chili peppers (chili peppers, salt), sugar, tomato paste, sesame oil, soy sauce (water, salt, soybeans, wheat flour), ground sesame seeds, Szechuan pepper, modified corn starch, rehydrated garlic, food acid (lactic acid).
Also know as: Sauce For Ma Po Tofu
Country of origin: China
Brand: Lee Kum Kee
Code: 078895120332
Content: 80 gr (2.8 Oz)