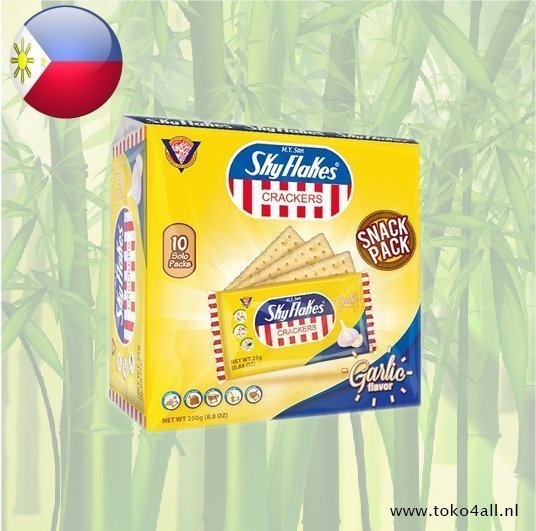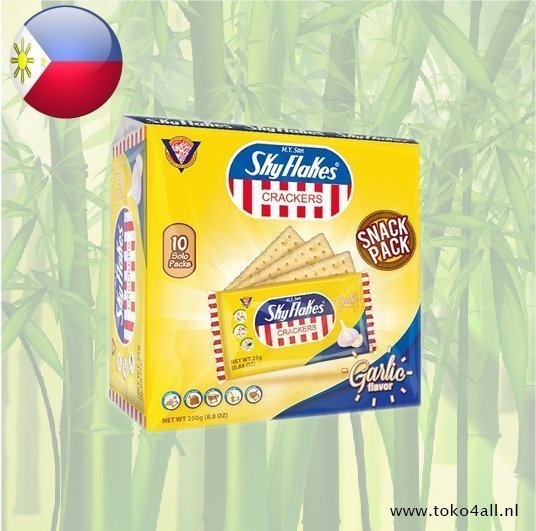 Sky Flakes Garlic Crackers 250 gr
€2,65
Sky flakes garlic crackers are delicious crackers with a garlic aroma. You can eat them as a snack but also as a cracker for your pâté or cream cheese.
In stock (19)
(Delivery timeframe:1-3 days)
Sky Flakes Garlic Crackers
These crackers do not have to have an introduction of their own, they are very well known at home and abroad. The crackers are delicious with a garlic flavor and delicious as a snack. These sky flakes are packed per 3 in a handy take-away package so that you always have something on the go if your stomach feels a bit empty. The Sky flakes are also available in other flavors, such as the variant with linseed, natural, onions & chives. The natural crackers are also available in a large container of 800 gr.
Ingredients:
Wheat flour, vegetable fats (coconut and palm oil), coconut oil, garlic, salt, sugar, flavoring, leavening agent E500, flavor enhancers E627, E631, hydrolyzed vegetable protein (contains wheat), yeast.
Also known as: Sky Flakes knoflook crackers
Country of origin: Philippines
Brand: M.Y. San, MySan
Code: 750515830202
Content: 250 gr (10 x 25 gr)