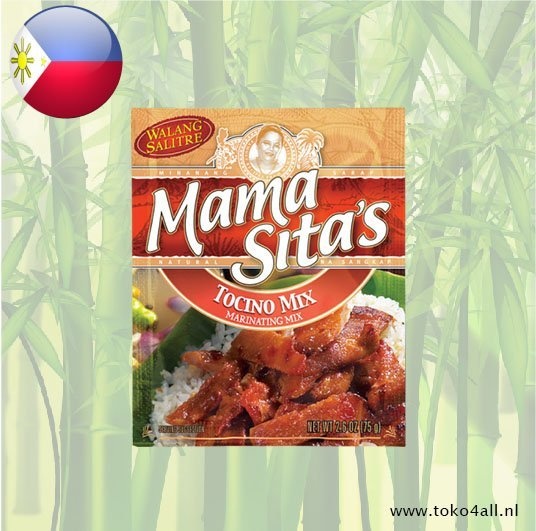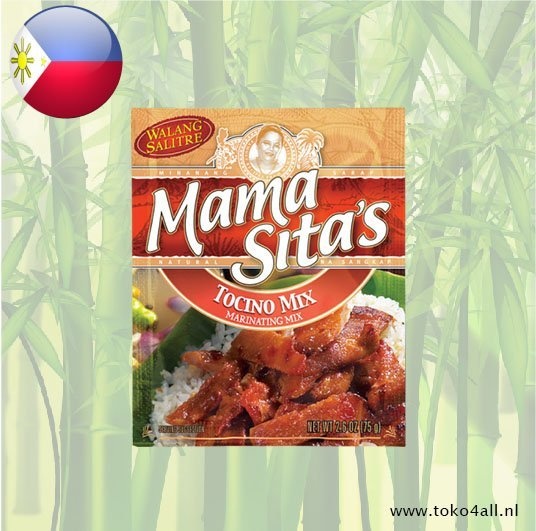 Tocino Marinating Mix 75 gr
€1,45
Tocino marinating mix is A savory mixture of sugar, spices and natural Annatto. It is free from chemical preservatives.
In stock (100)
(Delivery timeframe:1-3 days)
Tocino Marinating Mix
Tocino is a sweetened and Salted pork dish that was traditionally served for breakfast but nowadays serves as a evening meal. This mix is a mix of natural spices, annatto and sugar. It is free of any chemical preservatives and artificial colors. This native delicacy is a bit similar to smoked ham but is has a red color and it's sweet. The name comes from the Spanish word Tocino which is usually used with smoked meat. Tosilog is a well known Filipino dish, this meat is combined with fried rice, fried egg and pickled papaya.
Traditional Preparation
Pork is usually used for this, but chicken is also possible. First, the pork is cut into thin strips. The meat is then mixed with aniseed wine, annatto, water, sugar and salt in a sealed container. Usually it is then allowed to marinate for 3 days in the refrigerator. Pineapple juice is often added to make the meat slightly softer and fresher in texture. The meat is then fried until the oil comes out.
How to prepare:
Slice 1/2 kilo of meat
Sprinkle 1 pouch marinade mix evenly over the meat and mix thoroughly for at least 5 minutes
For a better result, wait for 1 hour
Place meat slices on lightly greased, very hot grill. Cook one side at a time
Ingredients:
Cane sugar, salt, annatto seeds, cornstarch, acidity regulator, citric acid.
Also known as: Tocino Originele kruiden mix
Country of origin: Philippines
Brand: Mama Sita's
Code: 4804888804028
Content: 75 gr (2.6 Oz)