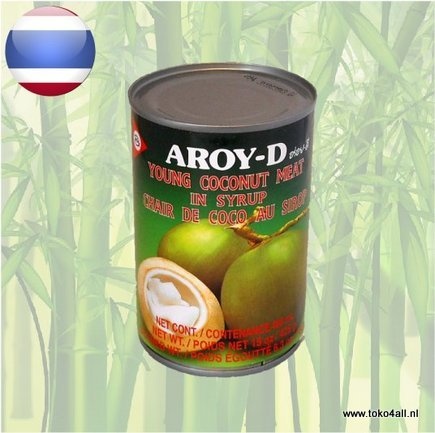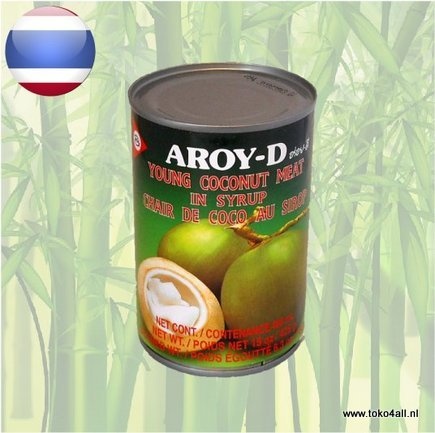 Young Coconut in syrup 425 gr
€3,50
Young coconut in syrup from Aroy-D. Enjoy the young coconut and imagine yourself on a tropical island. Great for a dessert or a mousse or cocktail.
Out of stock
(Delivery timeframe:Please contact us)
Young Coconut in syrup
This coconut is easy and ready to use canned coconut product. The young coconut meat is preserved with a syrup made from coconut water. The coconut is produced in Thailand. Try it now, it's delicious as an addition to pina colada, or as a filling in delicious coconut cream or of course for a delicious Buco Pie. There are many possibilities.
Coconut
The coconut is also known under the name topper. This is a corruption of the Malaysian Kelapa. The Coconut is actually not a nut but is a stone fruit. The coconut, which is commercially available as dried coconut flour, grated or preserved, is often used in Asian cuisine. The coconut milk is obtained by mixing grated coconut with water and pressing it. The coconut milk is often confused with the moisture in the coconut itself. The coconut water is drinkable and is 100% bacteria free. Sugar can also be extracted from the palm of the coconut, of course known under the name palm sugar.
Ingredients:
Water, young coconut flesh, sugar, preservative E224.
Also know as: Young Coconut meat in juice, junge kokosnuss fleisch in saft
Country of origin: Thailand
Brand: Aroy-D
Code: 016229002114
Content: 425 gr (15 Oz)
Drain Weight:180 gr (6.3 Oz)