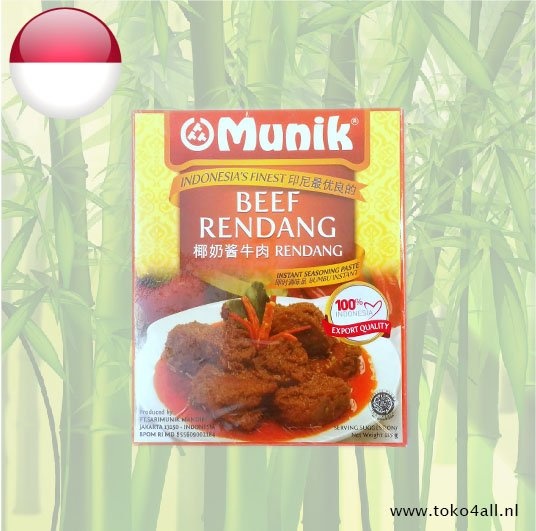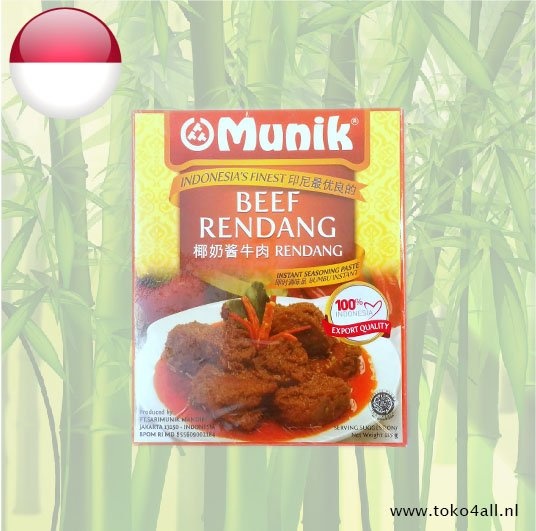 Beef Rendang Seasoning Paste 115 gr
€5,25
Beef rendang seasoning paste from Munik is an Asian spice mix that brings Indonesian cuisine to your home. Rendang is often served with rice or Ketupat
In stock (3)
(Delivery timeframe:1-3 days)
Beef Rendang Seasoning Paste
Rendang is a dish which originated from the Minangkabau ethnic group of Indonesia, and is now commonly served across the country. One of the characteristic foods of Minangkabau culture, it is served at ceremonial occasions and to honour guests. Thought beef rendang is sometimes described as being like a curry, authentic beef rendang is nothing like a curry. Beef rendang is slowly cooked process to alow the meat to absorb all the spices and to become tender. Rendang is often served with rice, ketupat (a compressed rice cake) and lemang (glutinous rice barbecued in bamboo tubes) in Indonesia.
Ingredients to prepare:
500 gr Calf Beef
800 cc Coconut milk or milk made from 1 ½ grated coconut (600 gr)
1 sachet of munik Beef Rendang seasoning
Cooking Direction:
Add in coconut milk, beef and munik instant seasoning into a wide-base medium saucepan
Once boiling, lower the flame and cook until the gravy is thickened
Ready to serve
Ingredients:
Chili peppers, lemongrass, candlenuts, shallots, garlic, cloves, salt, galangal, vegetable oil, preservative (E211), flavor enhancers (E621).
Also know as: Rendang Kruiden pasta
Country of origin: Indonesia
Brand: Munik
Code: 8994196101035
Content: 115 gr.