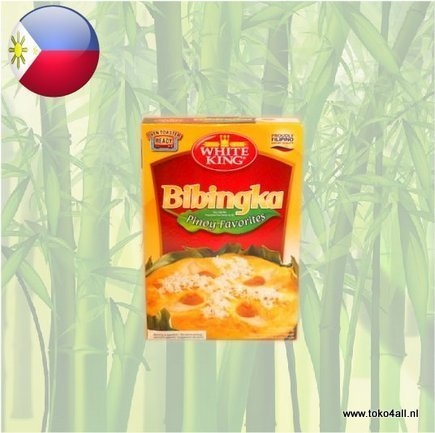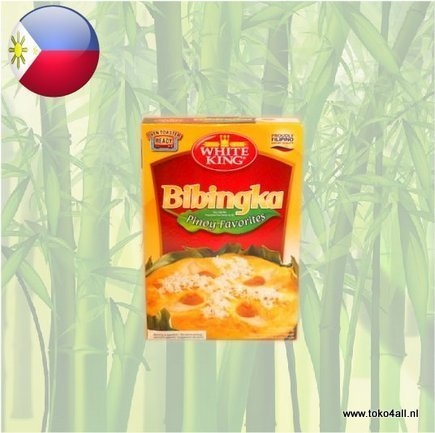 Bibingka Mix 500 gr
€3,60
Bibingka Mix from White king is a Filipino rice cake mix that is traditionally eaten a lot during the Christmas season.
In stock (3)
(Delivery timeframe:1-3 days)
Bibingka Mix
Bibingka Mix is a Filipino rice cake. The Filipino population does like sweets and the Bibingka is no exception. It is a rice cake with a topping of cheese and salted eggs. It is served with butter, sugar and grated coconut. Bibingka is traditionally cooked in clay pots with banana leaves.
Taste and texture
Bibingka has a soft airy structure that is somewhat reminiscent of puto or an airy cake. Puto is a steamed cake that has also earned a place in traditional Filipino cuisine.
Preparation method
Preheat the oven to 230 ° C and slide the rack in the middle of the oven.
Take 2 round cake molds of approximately 20 cm diameter and cover the bottom with baking paper or banana leaf.
Beat 3 eggs until a foam layer is formed.
Add 1 bag of 250 g baking mix together with 1 cup of water, 1/2 cup of sugar and 4 tablespoons of butter or margarine.
Stir the whole with a mixer on the lowest setting or with a wooden spoon until you get a smooth batter.
Put the batter in the molds and put grated cheese on it.
Place the molds in the oven and bake the cake for 10-15 minutes.
Remove the cake from the oven and spread on butter or margarine. Hot serving.
Ingredients:
Bromate-free wheat flour, refined sugar, glutinous rice flour, baking soda, sodium aluminum sulfate, calcium acid pyrophosphate) as leavening agents, iodized salt.
Also known as: Bibingka Mix
Country of origin: Philippines
Brand: White King
Code: 4800110091563
Content: 500 gr. (2 bags of 250 gr)