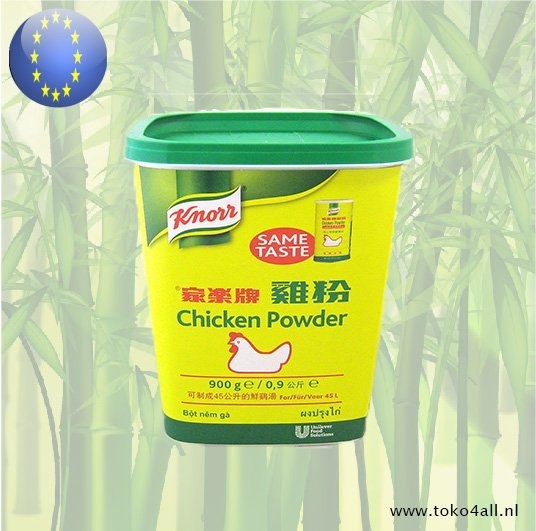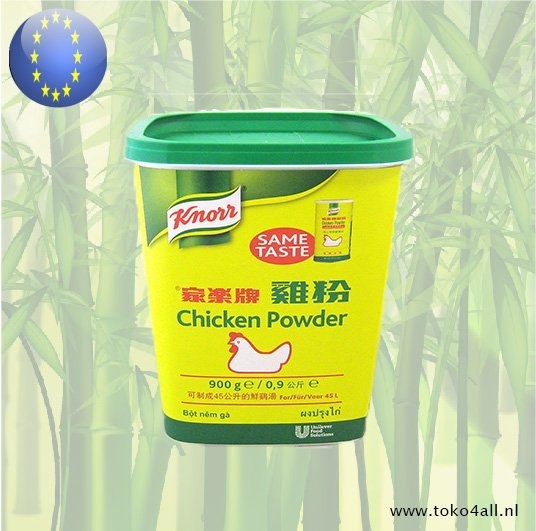 Chicken Broth Powder 900 gr
€13,95
Chicken broth powder from knorr, good for 45 liters of delicious chicken broth. All you need in your kitchen to make the best soups or sauces.
In stock (7)
(Delivery timeframe:1-3 days)
Chicken Broth Powder
Knorr chicken broth powder is made according to a traditional recipe. This gives Knorr bouillon powder, that authentic, sweet aroma of fresh chicken. Ideal for your soups, sauces, marinades and stir-fries. Gives a wonderful taste to your own sauces, but also a little bit in the water when cooking rice or vegetables already gives a delicious taste. Easy and quick to solve
How to dose
20 gr powder in 1 liter of water
100 gr powder in 5 liters of water
900 gr of powder in 45 liters of water
Ingredients:
Salt, lactose, flavor enhancers (E621, E631, E627), modified corn starch, chicken meat (5.7%), palm oil, yeast extract, chicken fat (0.6%), flavors (Contains Egg), chicken meat extract (0.1%), potato starch, coloring (E150C), antioxidant (rosemary extract).
Also know as: Kippen Bouillon poeder
Country of origin: Europe
Brand: Knorr
Code: 8722700165910
Content: 900 gr.