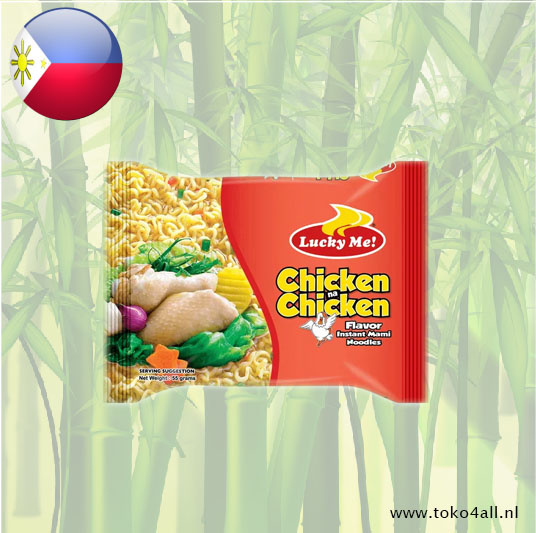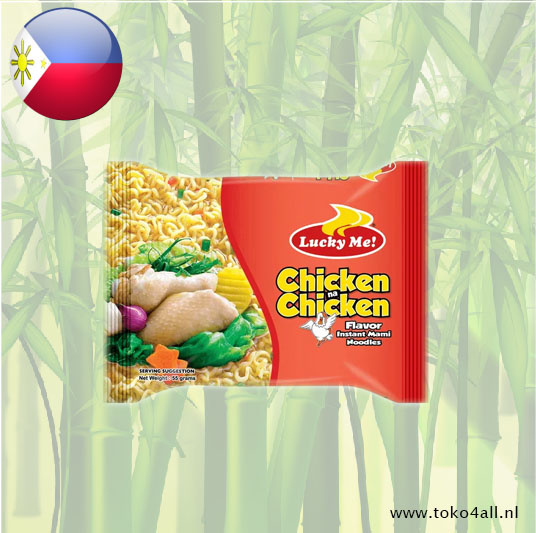 Chicken Na Chicken Instant Noodles 55 gr
€0,65
Chicken After Chicken instant noodles is a delicious chicken dish that is easy to prepare, delicious with chicken satay. Try the different flavors of Lucky Me!
In stock (69)
(Delivery timeframe:1-3 days)
Chicken Na Chicken Instant Noodles
These noodles are a delicious snack or as a basis for your dinner. Easy to prepare and delicious with some chicken satay or fried chicken thighs.
Preparation method:
Bring the water to the boil 470 ml (2 cups)
Cook the noodles with the garnish in 3 minutes.
Remove it from the heat and pour the water off.
Add the flavorings and stir well.
Ingredients:
Noodle:
Wheat flour, palm oil, acidity regulator (potassium and sodium carbonate), emulsifier, sodium tripolyphosphate, stabilizer (guar gum), green tea extract.
Seasoning:
Salt, spices (garlic, black pepper, cayenne pepper), textured soy protein, flavor enhancer (monosodium glutamate), disodium 5'-inosinate, disodium 5'-guanylate, cane sugar, corn starch, artificial chicken flavor, hydrolyzed soy protein, color (caramel), dried chives.
Also known as: Chicken Na Chicken Instant noedels
Country of origin: Philippines
Brand: Lucky Me
Code: 4807770270024
Content: 55 gr.