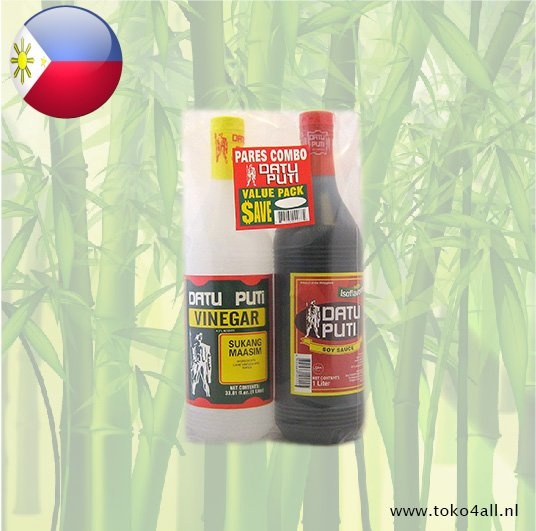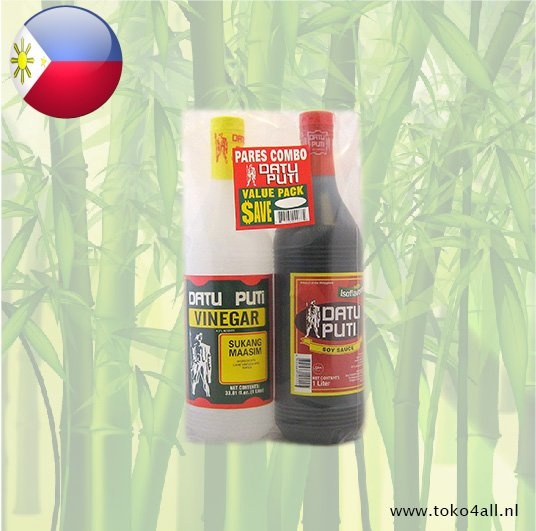 Combo Pack Vinegar + Soy Sauce 2 x 1 ltr
€5,95
Combo Pack Vinegar + Soy sauce from Datu Puti is a package for an attractive price. 2 bottles of 1 liter packed in a promo package.
In stock (11)
(Delivery timeframe:1-3 days)
Combo Pack Vinegar + Soy Sauce
This package is a special promo package that contains 1 bottle a 1 liter Sukang Maasim (white vinegar) and 1 bottle a 1 liter Soy Sauce.
Vinegar Sukang Maasim
Sukang Maasim as it is popularly called in the Filipino and white vinegar with an acidity of 4.5%. Sukang Maasim literally means "Sour Vinegar" and is made from cane sugar.
Sukang Maasim or white vinegar comes in different sizes. You can order the 1 liter packaging and the 2 liter bottles from us. All bottles are in a special transport friendly plastic bottle, so there is less chance of breakage when sending by mail.
Also try the other flavors of Datu Puti, for example also take the Datu Puti Spiced vinegar, deliciously seasoned by the fresh peppers that have been put in the vinegar.
Soy sauce
This sauce from Datu Puti is a sauce made from soybean extract, grain, water and salt. There are different types of soy sauces, such as light, dark, gluten-free, Chinese, Japanese, etc. The soy sauce is a widely used ingredient in Asian cuisine, but it is increasingly starting to take over in Western kitchens. Datu Puti is one of the most used soy sauces in the Philippines together with Silver Swan. The soy sauce is naturally salty and is therefore not suitable for everyone as a condiment. In addition, as mentioned, this sauce contains Soy, which makes it unsuitable for people with a soy allergy. The soy sauce is ideal for poultry, fish, meat, vegetables, salads and pasta. This soy sauce is always a suitable seasoning, directly when cooking or on the table ... and not only with Asian dishes! Try this sauce in your favorite dish.
Ingredients:
Vinegar:
Cane sugar vinegar, water
Soy Sauce:
Soy extract, water, iodized salt, caramel, 0.1% sodium benzoate
Also known as: Pares combo Datu Puto Value Pack
Country of origin: Philippines
Brand: Datu Puti
Code: 737964000875
Content: 2 x 1 ltr