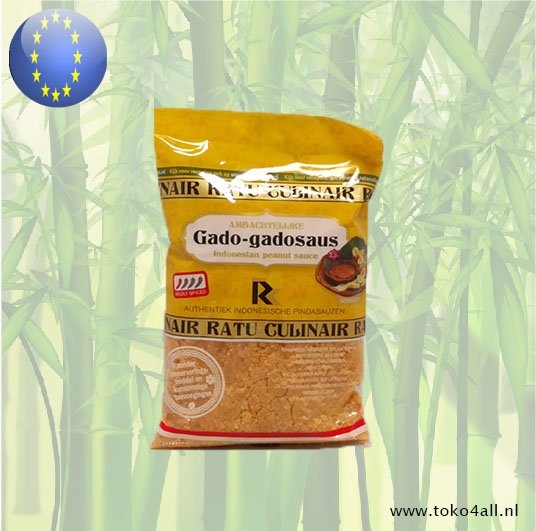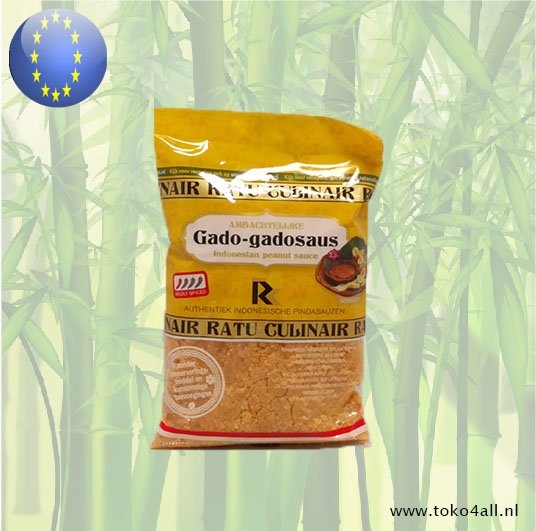 Gado Gado 200 gr
€2,70
Gado Gado from Ratu Culinair is a peanut sauce that is easy to make yourself.
In stock (15)
(Delivery timeframe:1-3 days)
Indonesian Peanut Sauce
Gado Gado is a popular Indonesian dish that can be eaten as a side dish but also as a main dish in combination with rice. This dish is particularly popular with vegetarians.
This dish is a combination of vegetables. The content of this dish is very different. Vegetables are often chosen that are available at that time. The most commonly used mix is white, long beans or beans, bean sprouts, potatoes. The vegetables are cooked or blanched. This dish is almost always served with fried bean curd and boiled eggs. The peanut sauce for gado-gado is poured lukewarm over the vegetable salad and sprinkled with fried onions (preferably from shallots) served immediately. A popular side dish of gado-gado is emping (melinopit prawn crackers). Ratu Culinary Gado Gado Sauce is gluten-free.
Preparation :
Put the contents of the package in a pan and stir it with boiling water to a delicious sauce.
For the ideal thickness of the sauce, we recommend 80 ml of water on 100 grams of the basic mixture.
Of course you can adjust the thickness of the sauce by adding more or less water.
Ingredients:
Peanuts 70%, salt, sugar, garlic, shallot, vinegar, chili peppers (Spanish peppers and bird's eye chilies), soybean oil.
Also known as: Gado Gado Pinda saus
Country of origin: Europe
Brand: Ratu Culinair
Code: 8715491121111
Content: 200 gr.