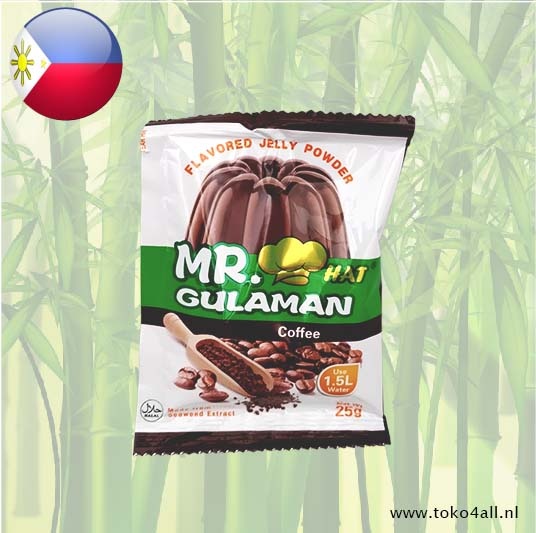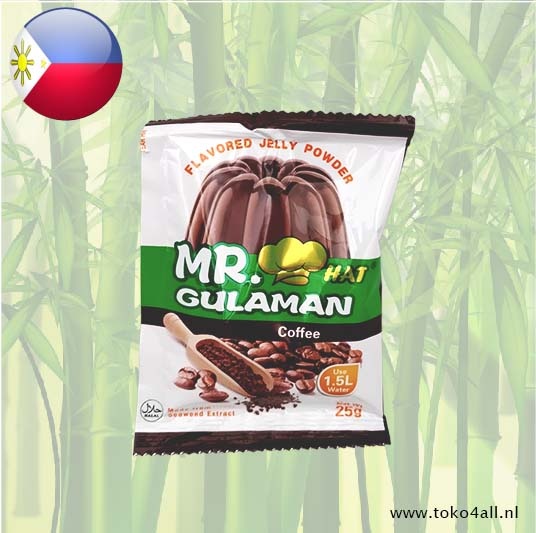 Gulaman Coffee Jelly Powder Mix 25 gr
€0,90
Gulaman Coffee Jelly Powder Mix by Mr. Hat is a product originating from the Philippines that is specifically designed to create delicious coffee jelly.
In stock (15)
(Delivery timeframe:1-3 days)
Gulaman Coffee Jelly Powder Mix
Gulaman refers to a gelatin-like substance used to make jelly. It is often made from seaweed extract and has a resilient and slightly firm texture. In this case, the Gulaman Coffee Jelly Powder Mix is specifically formulated with the addition of coffee, creating an interesting combination of flavors.
The coffee flavor in this product provides a rich and aromatic experience. Coffee is a beloved beverage worldwide, appreciated for its stimulating effects and distinctive flavor profile. With the Gulaman Coffee Jelly Powder Mix, you can uniquely experience the taste of coffee infused into the jelly.
Differences between gelatine and gulaman
The term gelatine and gulaman are used synonymously in the Philippines, although they are very different products. While gelatine is a protein made from bones, gulaman is a plant-derived carbohydrate made from seaweed. This distinction makes gulaman suitable for those who may not eat gelatine for religious or cultural reasons, such as Muslims. Another big difference between those two is that Gelatine dissolves in hot water but boiling water is necessary to dissolve gulaman. Unlike gelatine which sets at refrigerator temperature, gulaman sets at room temperature
Directions:
Prepare 1.5 liters of water (not hot or hot) in a frying pan (the less water the firmer the jelly)
Gradually sprinkle a sachet from Mr. Gulaman in water until dissolved
Heat with constant stirring and wait until it boils (add sugar and milk to sweeten)
Pour the mixture slowly into the mold and let it cool
Ingredients:
Seaweed powder, refined sugar, artificial coffee flavor, food colorings (E-numbers: E123, E133, E102, E110).
Also known as: Gulaman Coffee Jelly Powder Mix
Country of origin: Philippines
Brand: Mr. Hat
Code: 4806525660684
Content: 25 gr