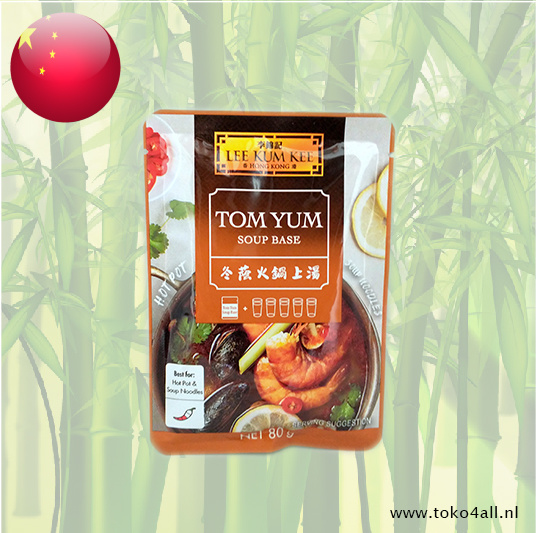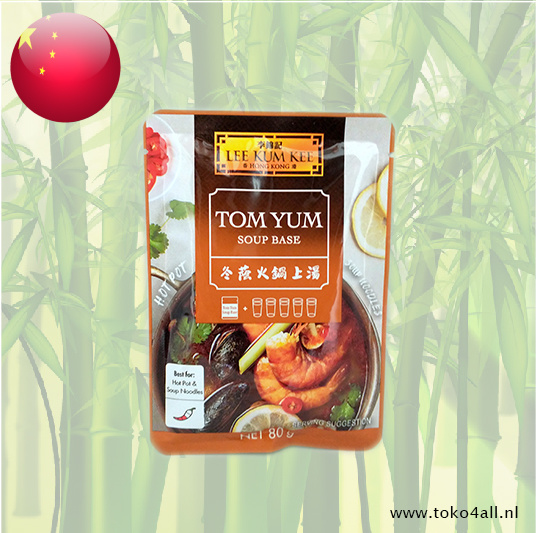 Tom Yum Soup Base 80 gr
€1,25
Tom Yum Soup Base from Lee Kum Kee is a paste that is easy to make and is ideal for hot pot.
Out of stock
(Delivery timeframe:Please contact us)
Tom Yum Soup Base
Tom Yum is a very sharp clear soup known in Thai cuisine. Tom Yum is known as one of the most famous Thai dishes. This spicy aromatic soup base is prepared with chili pepper, tamarind, lemongrass and other ingredients for an intense and spicy taste. This concentrated soup base is ideal for hot pot, noodles and to make a delicious tom yum soup. Tom yam can be served with chicken (kai), pork (moe) and shrimp (kung). For vegetarians there is the tom yam hed (with mushrooms).
Instructions:
Add 1 sachet to 1.2 liters of water for a hot pot preparation
Recipe Idea: Chicken and basil spaghetti in Tom Yum sauce
Ingredients
350 g chicken breast, cut into small pieces
400 g Spaghetti
1 onion, finely chopped
15 g Fresh basil leaves, shredded
A pinch of freshly ground black pepper
1 tbsp oil
Marinade
1 tbsp Lee Kum Kee Tom Yum soup base
Sauce Mix
2 tbsp Lee Kum Kee Tom Yum soup base
2 tbsp coconut milk or water
4 tbsp spaghetti cooking liquid
Method
Marinate the chicken and set it aside for 10 minutes.
Cook the pasta 1 minute less than stated on the package. Drain the pasta and set aside.
Heat the pan over medium heat, add the oil and fry the onion until soft. Add the chicken and cook for 3 minutes or until the chicken is cooked through.
Add the sauce mix and spaghetti and stir well. Sprinkle with some basil and black pepper and then it's ready to serve.
Tips
1 Reserve half a cup of the spaghetti cooking water to adjust the thickness of the sauce.
(Source nl.lkk.com)
Ingredients:
Sugar, salt, rice vinegar, soybean oil, flavor enhancers (E621, E631, E627), water, chili pepper powder 5%, tamarind concentrate 5%, salted chili peppers 4% (chili peppers 80%, salt), yeast extract (yeast extract, water, salt), acid (E330), sweetened lemon juice (sugar, lemon, water), shallots, lemongrass powder 2%, fish extract (anchovy, salt), galangal powder, dehydrated garlic, modified corn starch, natural flavor.
Also known as: Tom Yum Soep basis
Country of origin: China
Brand: Lee Kum Kee
Code: 078895161557
Content: 80 gr