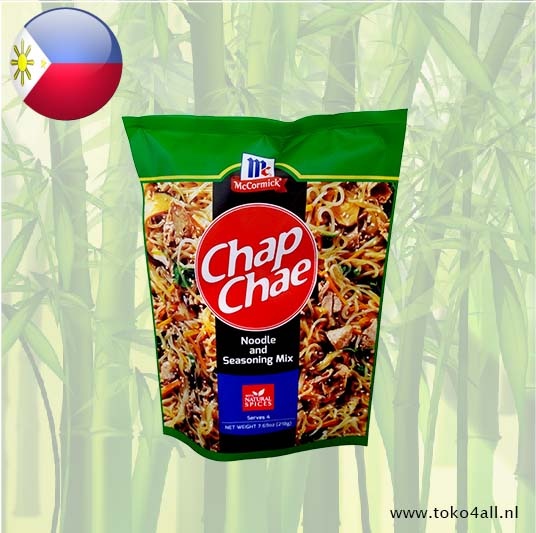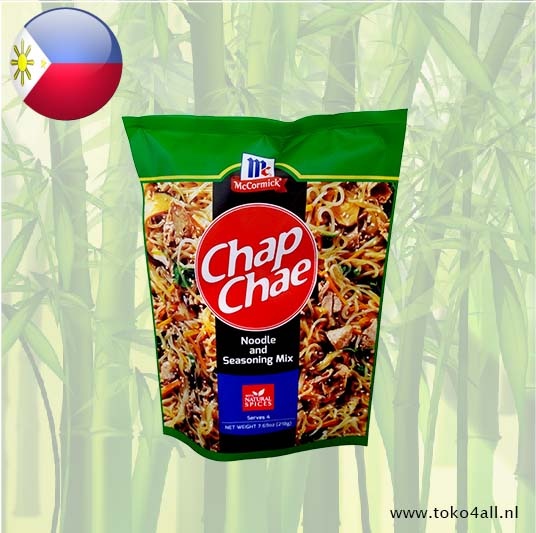 Chap Chae 2 in 1 Noodle and Seasoning Mix 218 gr
€8,95
Filipino Chap Chae is a dish inspired by Korean Japchae. It is a delicious noodle dish that is popular in the Philippines.
In stock (6)
(Delivery timeframe:1-3 days)
Chap Chae 2 in 1Noodle and Seasoning Mix
Filipino Chap Chae is a dish inspired by Korean Japchae. It is a flavorful noodle dish that is popular in the Philippines. McCormick is a well-known brand that produces spices and seasoning mixes, and they have their own version of the Filipino Chap Chae recipe.
The basic recipe for Filipino Chap Chae consists of glass noodles, also known as cellophane noodles, which are cooked and then combined with a variety of vegetables. Carrots, cabbage, bell peppers, mushrooms, and spring onions are often used. In addition, strips of meat such as beef or chicken are often added to the dish.
To enhance the flavor of the dish, sauces and seasonings are typically added. Soy sauce, oyster sauce, and sesame oil are common ingredients used to give it a savory and umami-rich taste. Sometimes additional spices like garlic and ginger are also used.
The preparation method of Filipino Chap Chae can vary depending on the recipe and the cook's preference. Generally, the vegetables are stir-fried in a pan, followed by adding the cooked glass noodles and the meat. Then, the sauces and seasonings are added to season the whole dish.
Filipino Chap Chae is a delicious and nutritious dish that is often served as a main course during family gatherings, parties, or simply as a tasty meal at home. It combines the delicate texture of glass noodles with flavorful vegetables and meat, offering a delightful taste experience.
This pack contains:
60g Chap Chae seasoning mix
150g Chap Chae sweet potato noodles
8g sesame oil
Recipe:
Ingredients:
¼ cup water (60 ml)
100g thinly sliced beef
20g shiitake mushrooms, sliced
1 medium carrot, cut into matchstick-thin strips
50g spinach leaves
Instructions:
Cook the Chap Chae noodles for 5 minutes, drain and rinse with cold water.
Dissolve the McCormick Chap Chae seasoning mix in ¼ cup of water. Set aside.
Stir-fry the beef, shiitake mushrooms, and carrots.
Add the noodles and spinach, and pour the sauce mix over them.
Mix in the sesame oil and serve hot.
Ingredients:
Seasoning Mix:
Sugar, corn, maltodextrin, soy sauce powder (soybeans, wheat, salt, tapioca, maltodextrin), natural and artificial flavors, fructose, salt, anticaking agents E470 and E551, sesame seeds, onion, garlic, sesame oil, colorings E150a, E160c, natural flavor.
Noodles:
Sweet potato starch, water.
Sesame Oil:
Sesame oil, soybean
Also known as: Chap Chae 2 in 1 Noodle and Seasoning Mix
Country of origin: Philippines
Brand: McCormick
Code: 4806510073239
Content: 218 gr