This is a frozen product and can only be picked up or shipped within the NETHERLANDS via DHL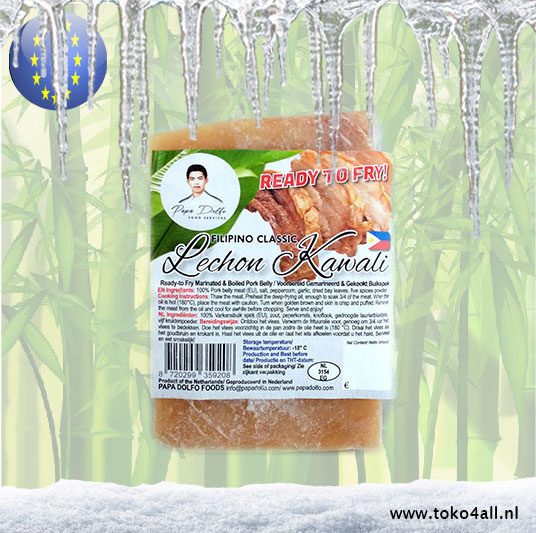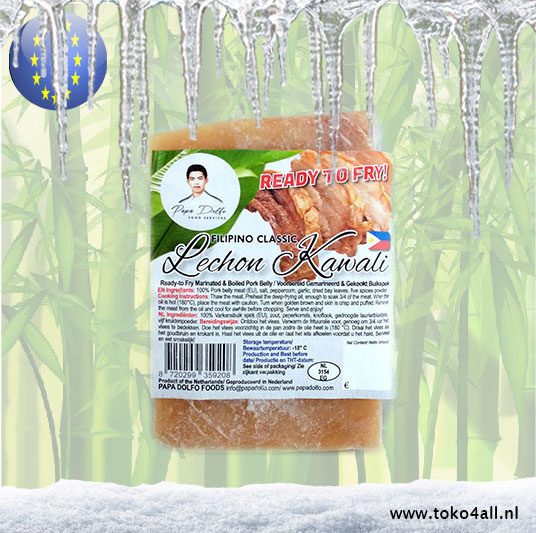 Lechon Kawali Ready To Fry 1 stuk
€9,10
Lechon Kawali Ready to fry from Papa Dolfo is a beautiful piece of bacon that is completely ready to bake yourself.
CHOOSE DHL AS SHIPPING METHOD!
In stock (1)
(Delivery timeframe:1-3 days)
Lechon Kawali Ready To Fry
Lechon Kawali Ready To Fry is a nice piece of bacon that has had the basic preparation. You just have to bake or fry it yourself. Lechon Kawali is a Filipino delicacy that is often served during festive occasions. Lechon Kawali is also known as lechon de carajay. After frying, the lechon is usually cut into cubes and served with a Lechon sauce such as Mang Tomas's.
The price of our lechon on our website is based on weight. As a result, the price of the Lechon will always change.
Price indication: € 23,- per kilo
Example: (approx.)
300 gr = € 6,90
400 gr = € 9,20
450 gr = € 10,35
500 gr = € 11,50
550 gr = € 12,65
600 gr = € 13,80
Preparation method:
Thaw the meat
Preheat the deep-frying oil, enough to soak 3/4 of the meat
When the oil is hot (180°C), place the meat with caution
Turn when golden brown and skin is crisp and puffed
Remove the meat from the oil and cool for a while before chopping
Serve with Lechon Sauce and enjoy!
Tip!
Also delicious to bake in the Air-Fryer
Ingredients:
100% Pork belly (EU), salt, peppercorns, garlic, dried bay leaves, five-spice powder.
Also known as: Lechon Kawali, lechon de carajay
Country of origin: Europe
Brand: Papa Dolfo Food Services
Code: 8720299359208
Content: approx. 300 - 600 gr
This is a frozen product and can only be picked up or shipped within the NETHERLANDS via DHL