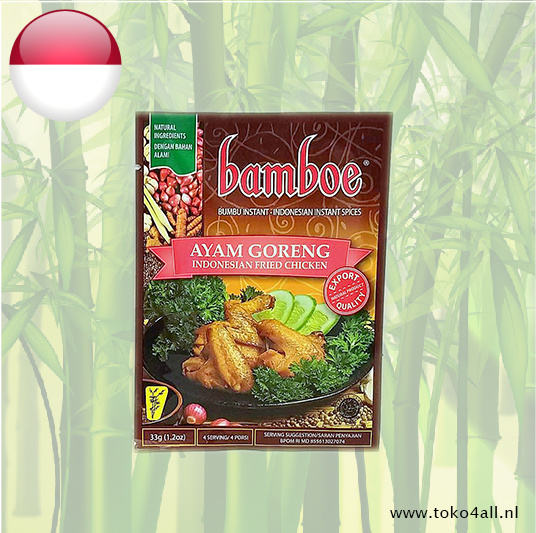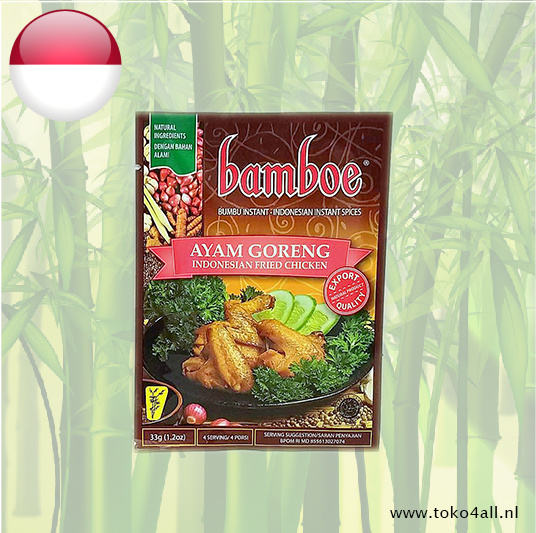 Ayam goreng instant bumbu 33 gr
€1,00
Ayam goreng instant bumbu is a ready-made spice mix to make an Indonesian variant of fried chicken.
In stock (19)
(Delivery timeframe:1-3 days)
Ayam goreng instant bumbu
Bamboo instant seasoning is an authentic Indonesian recipe that is only made from the freshest natural ingredients. Bamboo instant seasoning is an easy way to prepare Indonesian dishes. The Ayam goreng literally means fried chicken. Ayam goreng is a chicken dish that results in a delicious crispy chicken dish that is delicious with every rice table.
How to prepare:
500 gr chicken, cut into pieces
Boil water, add bamboo instant herbs and chicken, simmer until soft and thickened
Deep fry chicken golden brown
Serve hot
Ingredients:
Shallots, garlic, mixed herbs, salt, vegetable oil
Also know as: Ayam Goreng Indonesian Fried Chicken
Country of origin: Indonesia
Brand: Bamboe
Code: 8992735210088
Content: 33 gr (1.2 Oz)