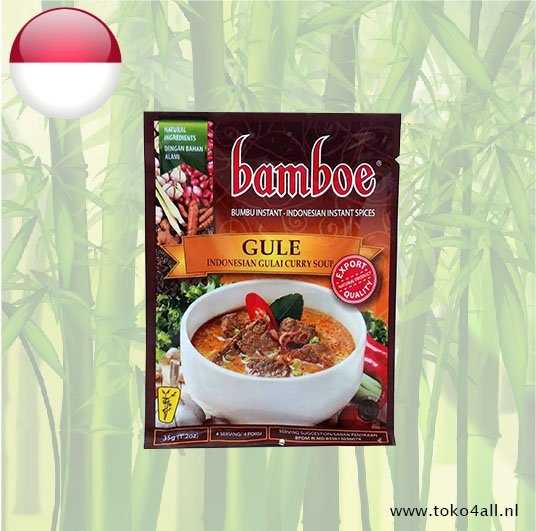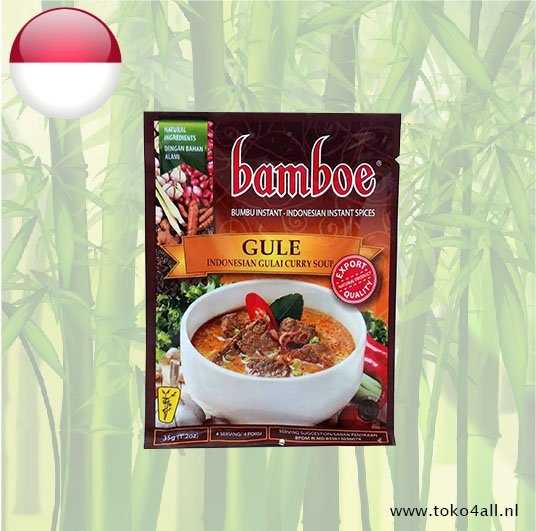 Gule Indonesian curry soup 35 gr
€0,95
Gule Curry Soup instant mix is a spicy mix to make a delicious spicy curry soup yourself. Delicious and tasty for the variety.
In stock (24)
(Delivery timeframe:1-3 days)
Gule Curry Soup
Also called Gulai is an Indonesian curry soup for which various meats such as poultry, beef, goat meat can be used. The spice blend originally consists of a rich mix of turmeric, coriander, black pepper, galangal, ginger, garlic, lemongrass, caraway and cinnamon. Together with coconut milk, this makes it a particularly tasty dish.
How to prepare:
Necessities:
500 gr. mutton or beef or poultry
5 tablespoons of coconut milk
A splash of lemon juice

Preparation method:
Cook the meat
Drain the meat and keep 500 cc stock and pour it back into the pan
Add the spice mix and let the meat simmer on low heat
Add the coconut milk and and simmer over a low heat for about 15 minutes
Serve hot with a splash of lemon juice and chili sauce
Ingredients:
Shallots, mixed herbs, salt, vegetable oil, garlic
Also known as: Indonesian Gulai curry soup
Country of origin: Indonesia
Brand: Bamboe
Code: 89927352100195
Content: 35 gr (1.2 Oz)