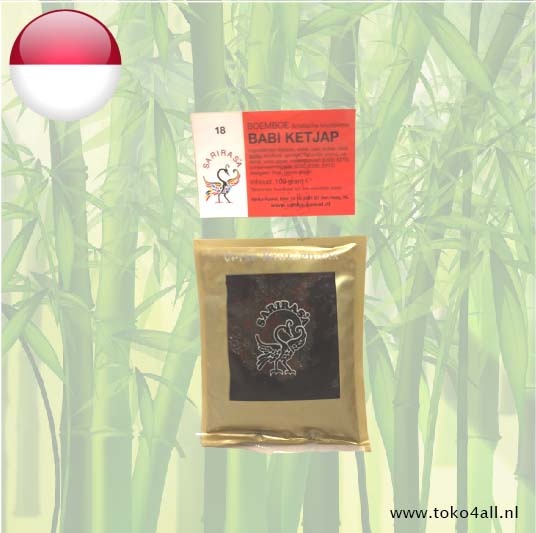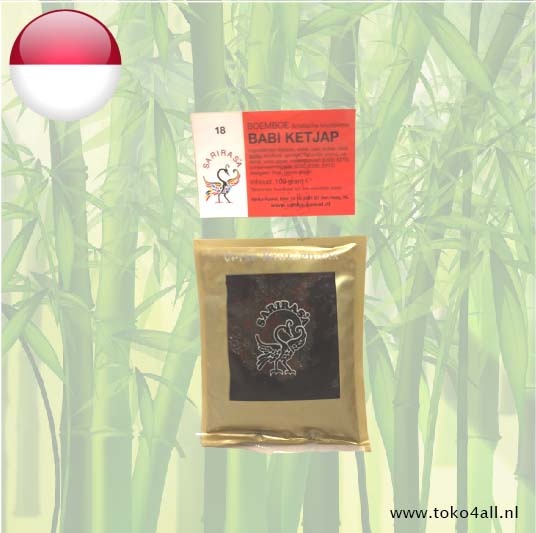 Babi Ketjap Boemboe 100 gr
€1,10
Babi Ketjap is a traditional Indonesian dish that consists of pork braised in a sweet and savory soy sauce mixture called "ketjap" (or "kecap" in Indonesian)
Out of stock
(Delivery timeframe:Please contact us)
Babi Ketjap Boemboe
Sarirase has a wide range of different boemboe's that bring the Indonesian cuisine to your home. Easy to use and perfect as a base for your dishes. There are boemboe's that form the basis for Babi Ketjap, nasi goreng, soto, opor, and many more
Babi Ketjap is a traditional Indonesian dish that consists of pork braised in a sweet and savory soy sauce mixture called "ketjap" (or "kecap" in Indonesian). The dish is typically flavored with aromatic spices such as garlic, ginger, and star anise, as well as some chilies for a bit of heat.
To prepare Babi Ketjap, the pork is typically cut into bite-sized pieces and then marinated in a mixture of soy sauce, sugar, and spices for several hours. Then, the pork is braised in the marinade until it becomes tender and infused with flavor.
Babi Ketjap is often served with rice and some vegetables such as steamed bok choy or stir-fried green beans. It is a popular and comforting dish that is enjoyed by many Indonesians, and it has also gained popularity in other countries due to its delicious taste and simplicity of preparation
Preparation method:
Lightly brown the content in approximately 2 tablespoons of oil.
Then add to it: 1½ cup of water, 500 grams of diced pork or chicken meat.
Allow everything to simmer until cooked and reduce to desired thickness.
Taste indication: spicy
Ingredients:
Molasses, water, onions, sugar, salt, taotjo, garlic, ginger, natural flavor, caramel, white pepper, food acids (E330, E270), preservatives (E220, E260, E211)
Allergen: Soy, wheat, gluten.
Also known as: Babi Ketjap, kecap
Country of origin: Indonesia
Brand: Sari Rasa
Code: 8711675000180
Content: 100 gr