This is a frozen product and can only be picked up or shipped within the NETHERLANDS via DHL Express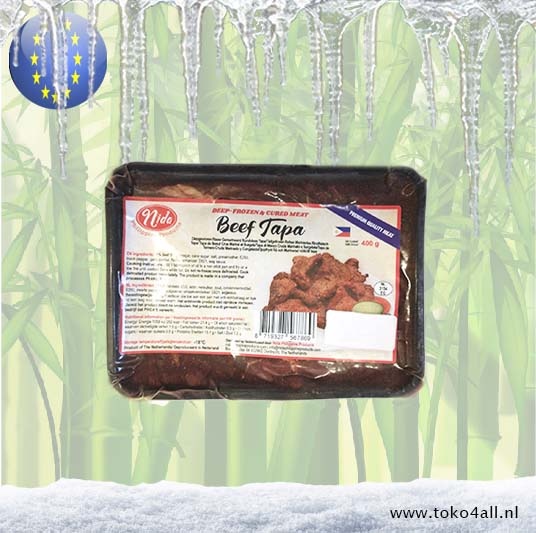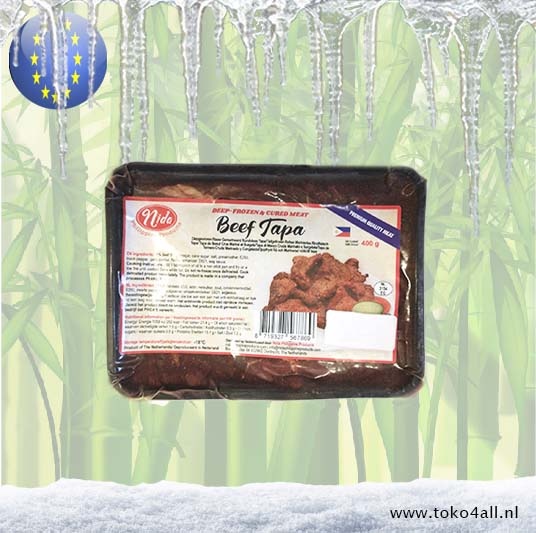 Beef Tapa 400 gr
€12,50
Beef Tapa from Nida Philippine Products is a meat dish with which you can easily and quickly prepare a delicious Filipino dish
CHOOSE DHL EXPRESS AS SHIPPING METHOD!
In stock (14)
(Delivery timeframe:1-3 days)
Beef Tapa
Tapa is a dish from the Philippine cuisine. Tapa is traditionally a dried, salted or smoked beef dish. It can of course be made with pork, chicken or fish as an ingredient. In Filipino cuisine, the meat is sliced very thinly and preserved with salt and spices. The Tapa is then fried or grilled. A traditional Filipino dish on the menu is the tapsilog, which is a word combination of TAPa, Sinangag (fried rice), itLOG (fried egg). This is often served with papaya atjar.
Preparation method:
Add 1 tablespoon of oil to a non-stick pan and cook over low heat.
Serve hot.
Do not refreeze the thawed product. Cook the product immediately after thawing.
The product is made in a facility that processes peanuts.
Ingredients:
Beef, vinegar, cane sugar, salt, preservative: E250, black peppers, garlic powder, flavor enhancer: E621, soy sauce.
Also known as: Runder Tapa
Country of origin: Philippines
Brand: Nida
Code: 8719327567869
Content: 400 gr
This is a frozen product and can only be picked up or shipped within the NETHERLANDS via DHL Express