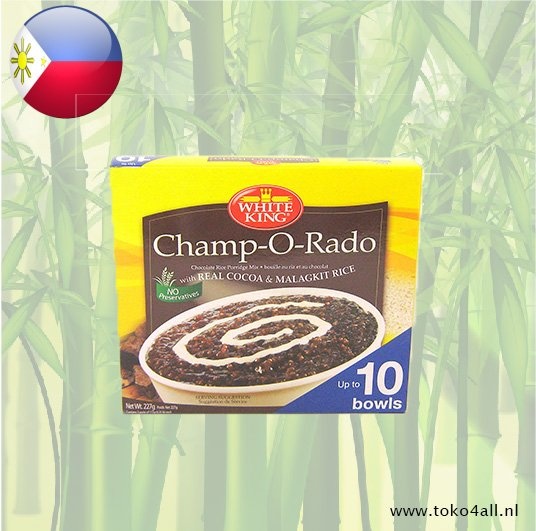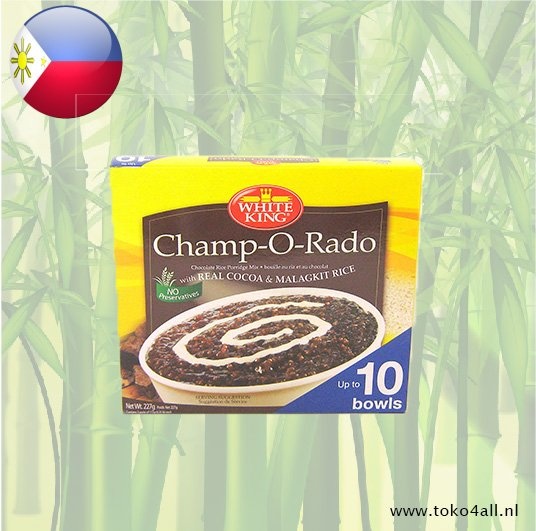 Champorado 227 gr
€3,95
Champorado's traditional dish made of glutinous rice and cocoa powder. With this package, you will get in no time the best champorado.
Out of stock
(Delivery timeframe:Please contact us)
Champorado
This is a traditional dish which is well known in the Philippines. It is a dish made of glutinous rice, cocoa powder, sugar, and milk. This dish is more of a lunch dish or can be served as a snack. It can be eaten hot or cold. The origins of this dish can be found at the time that the Philippines was trading with Mexico. The Mexican traders brought the dish to the Philippines. Over the years, the Filipino made this dish more in their own style and added rice.
What do you need:
5 cups of water (1175 ml)
1/2 cup sugar (100 gr)
1/2 pack of Champ-O-Rado Mix ( 2 in a package from 113 gr)
Cooking Directions:
Boil together 5 cups water, 1/2 cup sugar and 1 pack a 113 gr champ-o-rado mix.
Stir occasionally for 8-10 minutes or until rice is cooked.
Serve with milk and additional sugar, as desired.
Ingredients:
Glutinous rice (78%), modified corn starch, cocoa powder (8%), antioxidant E339, anti-caking agents E341 (iii), salt.
Also known as: Champ-o-rado
Country of origin: Philippines
Brand: White King
Code: 4800110021973
Content: 227 gr.