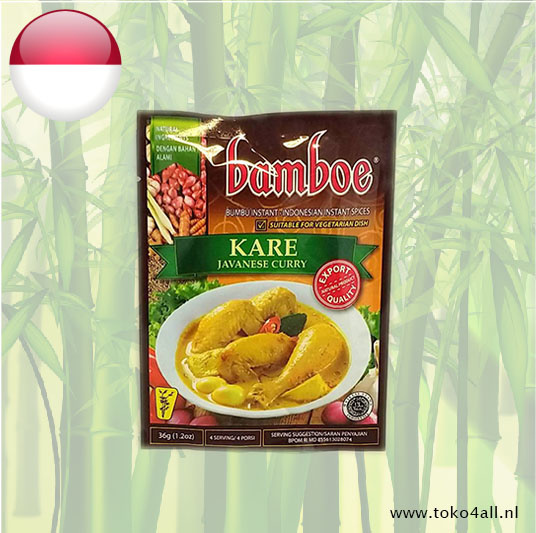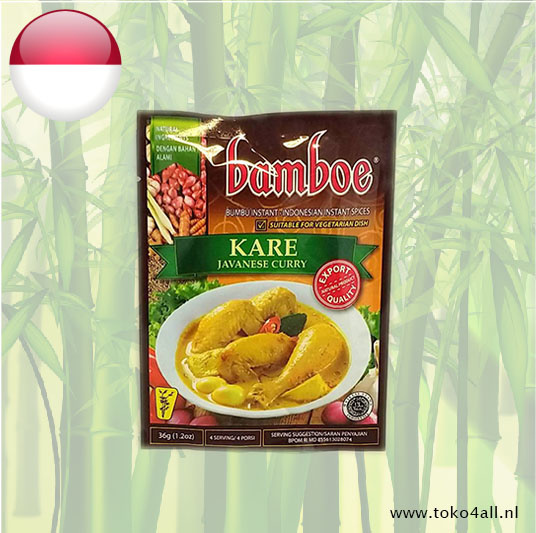 Kare Javanese Curry 36 gr
€0,95
Kare Javanese Curry instant mix is a spicy mix to make a delicious spicy curry yourself. Delicious and tasty for the variety.
Out of stock
(Delivery timeframe:Please contact us)
Kare Javanese Curry
This Bumbu is a ready-made Bumbu to make a tasty Javanese Curry yourself. A Curry is Indonesian yellow curry soup, cooked with coconut milk and can be made with chicken or beef or fish, among others. The Javanese curry has a milder taste than the real Japanese or Thai curry. Delicious in combination with rice and possibly grated aubergine.
Necessities:
1 chicken, cut into pieces or 1 kg crab cut in halves.
2 cups coconut milk (if thick coconut milk is used, use 200 ml coconut milk) + 2 cups water (800 ml)
Preparation method:
Boil chicken or crab in water and bamboe instant spices until tender and fragrant (approx 30 minutes in medium heat). Stir occasionally.
Stir in coconut milk, simmer for another 5 minutes
Serve hot
Ingredients:
Shallots, salt, vegetable oil, mixed herbs, pepper.
Also known as: Kare Javaanse Curry
Country of origin: Indonesia
Brand: Bamboe
Code: 8992735210026
Content: 36 gr (1.2 Oz)