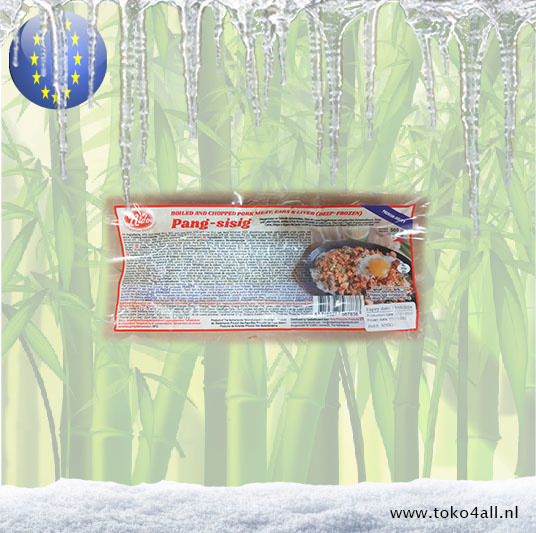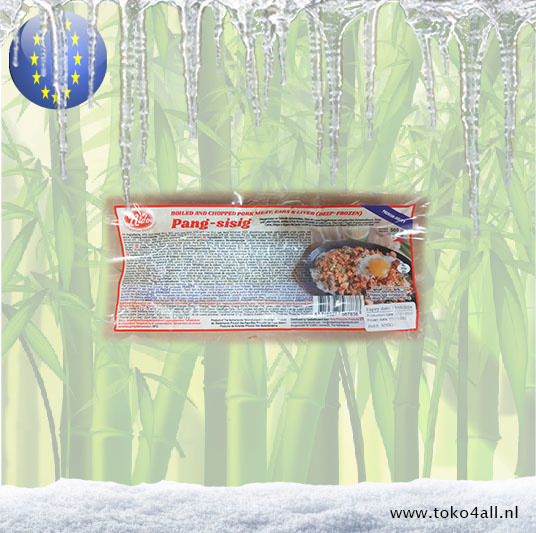 Pang Sisig 500 gr
€8,20
Pang Sisig from Nida is a meat dish of pork, ears and liver. Completely marinated and sliced and ready to use
In stock (2)
(Delivery timeframe:1-3 days)
Pang Sisig
Bring the Philippines into your home with the prepared dishes from Nida Philippine Products. The basic dishes taste as if you freshly made them yourself. Sisig is a traditional Filipino dish from the Pampanga region of the northern Philippines.
Sisig
Sisig is a classic traditional dish from the Pampanga region. In pampanga, the meat is first cooked before grilling or baking. Traditionally, the dish was made from the pig's head and liver and seasoned with calamansi and chili peppers. Nowadays, more and more ordinary pork is used, which is seasoned with citrus pepper herbs. The name sisig, according to the kapampangan dictionary, stands for "a snack on something sour", in the early years this was first a reference to various fruit that was dipped unripe in salt and vinegar. Later this also became a method for marinating fish and meat in combination with calamansi juice or vinegar with various spices. Traditionally, the meat is prepared in 3 stages. Cooking, roasting and grilling. Initially, the pig's head was boiled to remove the hair and make it more tender. Then parts of it were chopped and grilled or roasted. Finally, onions were added and served on a scalding hot plate.
Necessities:
1 pack of 500 gr Pang Sisig
Mayonnaise, egg, chili, calamansi (optional)
Preparation method:
 Defrost the meat
 Heat the oil in a pan and fry the onions until soft
Add the meat
Season to taste with soy sauce if desired
Mix well
Serve on the so-called Sizzling Plate
Ingredients:
Pork, pork ears, pork liver, salt, flavor enhancer E621, ground black pepper, garlic powder, ginger powder, soy sauce.
Also known as: Pang Sisig 500 gr Nida
Country of origin: Philippines / Europe
Brand: Nida
Code: 8719327567838
Content: 500 gr.