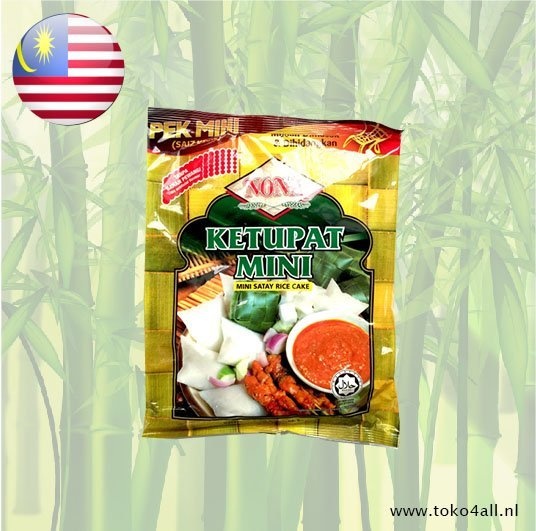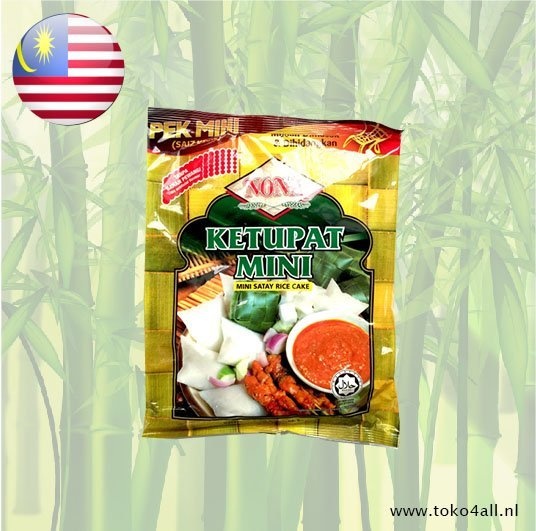 Ketupat Mini 30 x 20 gr
€4,25
Ketupat Mini is a rice cake bag that is ready for cooking. Delicious diced by a salad, Soto or lontong, but also delicious in combination with satay and peanut sauce.
Out of stock
(Delivery timeframe:Please contact us)
Ketupat Mini 30 x 20 gr
Ketupat, Kupat or Tipat a kind of dumpling made from rice. This dish is traditionally made in woven pandan leaf and is often found in Brunei, Malaysia, Indonesia and the Philippines where it is known under the names Piyoso, iranun, Maguindanaon, ta'mu, pusô, patupat. After cooking, the bag of rice is cut open and removed from the pandan leaves. Then cut into pieces and eaten as a snack or as a substitute for rice. It is often eaten in combination with rendang, opor ayam, syur labu.
Preparation method:
Rinse the packet of rice
Cook the bags covered in plenty of water for about 45 to 60 minutes, the sachets should be completely under water.
Stir the bags occasionally
After cooking, drain the bags well and cool
Remove from packaging and cut into pieces and serve with possibly peanut sauce
The Nona Mini satay rice cake is packaged in a special food grade foil that can withstand temperatures of 106 ° C.
Ingredients:
Specially selected rice, salt.
Also know as: Kutupat Mini, Mini satay rice cake
Country of origin: Maleisia
Brand: Nona
Code: 9556277303975
Content: 30 x 20 gr