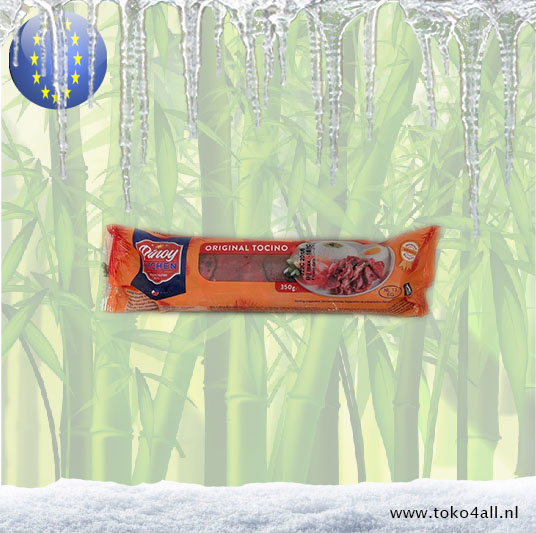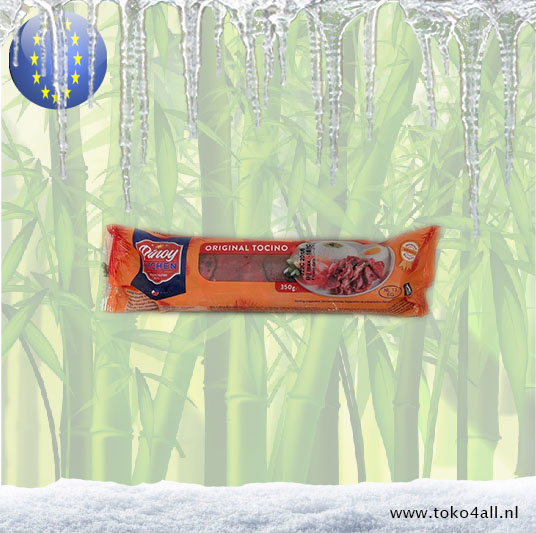 Original Tocino 350 gr
€7,50
Original Tocino from Pinoys kitchen is a delicious meat dish with a sweet taste that is perfect with a delicious rice table.
Out of stock
(Delivery timeframe:Please contact us)
Original Tocino
This Tocino dish from the Philippines originates from many Filipino dishes in Spanish cuisine. Tocino means Bacon in Spanish and is traditionally made from the pork belly. In Filipino cuisine, Tocino is a thinly sliced belly of pork. This meat is then traditionally marinated with anise wine, annatto coloring, water, sugar, salt. The meat is allowed to marinate for a few days and is then lightly cooked and fried in oil. As with so many recipes in the Philippines, this recipe can of course vary by region. Just like Tapa and Longanisa, Tocino can also be served with rice and fried egg. This dish is then called Tosilog.
Preparation method:
Heat oil in a pan and add the meat
Turn the meat regularly until it is light brown in color
The meat needs a short cooking time
Ingredients:
74% pork, cane sugar, pineapple juice (from concentrate), garlic, salt (salt, preservative E250), flavor enhancer E621, pepper, antioxidant E301, coloring E120, Raki (suma distilled from grapes and raisins, organic ethyl alcohol, aniseed, refined white sugar), sugarcane vinegar (sugarcane vinegar, coloring E150c), soy sauce (soy extract, wheat, iodized salt, coloring E150c, preservative E202).
Also known as: Originele Tocino
Country of origin: Europe
Brand: Pinoy Kitchen
Code: 8710939013409
Content: 350 gr