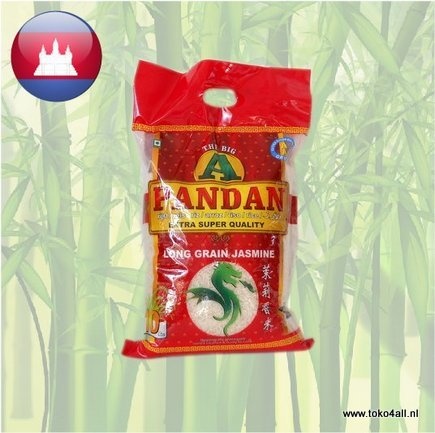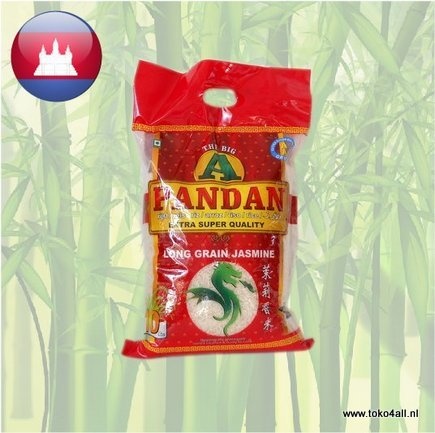 Pandan Rice 4,5 Kg
€12,95
Pandan rice from The Big A is a beautiful white rice with shiny solid grains.
In stock (2)
(Delivery timeframe:1-3 days)
Pandan Rice
Cambodja is known as the best place in th e world for growing high quality and delicious Jasmine rice. The big A Jasmine Hom Mali Rice is grown where the type of soil and the climate are ideal to are a guarantee  for the high quality of this type of rice. Jasmine hom mali rice is a beautiful, white rice with shiny solid grains, which after cooking turn out to be delicious in taste with a natural authentic aroma. Avtar Jasmine Hom Mali Rice is an essential dish of every traditional meal. "real taste from the kingdom of rice"
Jasmine Rice
Jasmine rice is a long grain rice variety from the region of Thailand, Cambodia and Vietnam. The rice has a wonderfully nutty aroma and taste that is a bit like pandan. Jasmine is often sold under the name of pandan rice, in principle there is not much difference between pandan and jasmine rice. Originally, jasmine rice should give off a more floral scent and pandan rice has more the pandan aroma in the rice. Furthermore, both rice types are almost the same in terms of preparation method or structure.
Cambodia
Cambodia is a country in Southeast Asia. The country has approximately 15 million inhabitants. Cambodia, like many Asian countries, is known for its wide variety of rice dishes. The dishes of Cambodia are mainly influenced by the neighboring countries Thailand and Vietnam, this is especially noticeable by the presence of soups, wok vegetables and curries. One of the important ingredients in Cambodian cuisine is fish, which is not only eaten as a main dish, but also in sauce or pasta form.
Cooking Instructions:
Put 1,5 cup of water to the boil
Stir in 1 cup of The Big A Rice
Add Salt (optional)
Cover tightly, lower heat and simmer for 18-20 minutes
Remove from the heat, cover and let stand for a few minutes before serving
Ingredients:
Jasmine rice
Also known as: Pandan Rijst, Long grain jasmine rice
Country of origin: Cambodia
Brand: The Big A
Code: 87170920037731
Content: 4,5 kilo