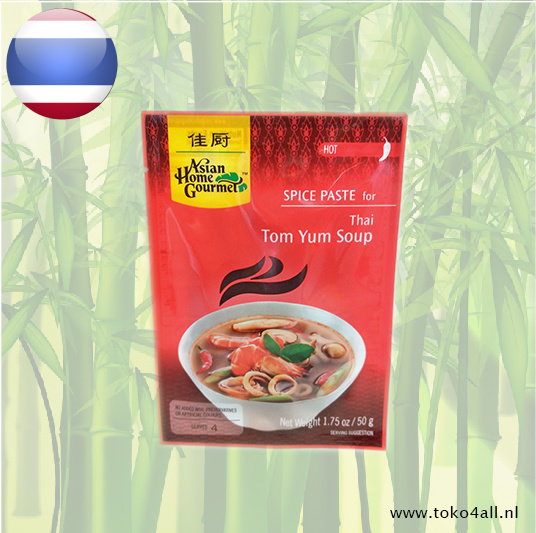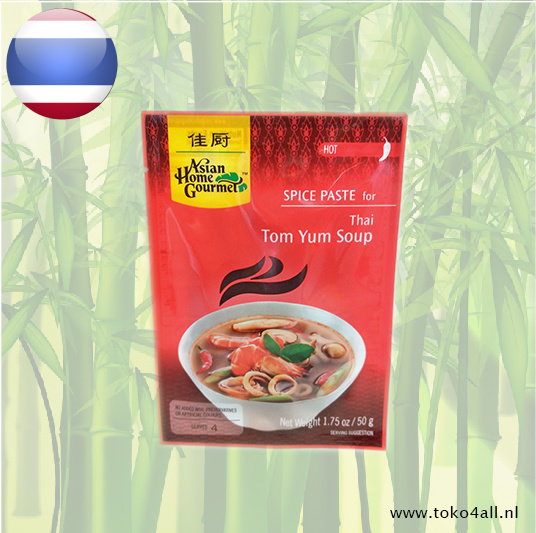 Spice paste for Thai Tom Yum Soup 50 gr
€1,50
Herb paste for Tom Yum Soup from Asian Home Gourmet is a ready-made paste for the base of Tom Yum.
In stock (6)
(Delivery timeframe:1-3 days)
Spice paste for Thai Tom Yum Soup
Tom Yum soup also known as Tom Yam, is a spicy clear soup from Thailand. of all Thai dishes, it can be said that the most famous dish is from Thailand. Tom Yum is very popular in Asia, and can be found in several neighboring countries such as Laos, Singapore, Malaysia. The name Tom Yum comes from the terms Tom (cooking) and Yam (a spicy sour Thai sauce). Thai cuisine is known for combining various flavors in their dishes. This also applies to this dish in which the flavors are linked to each other, spicy and sour. The soup is prepared with various fresh ingredients such as garlic, lemongrass, lime leaves, mushrooms, lime juice, green chili pepper, coriander and basil. Tom Yum can be eaten with shrimp, but also pork or chicken.
Necessities:
1 pack of herb paste for Tom Yum soup
880 ml water or unsalted chicken stock
250 shrimps (peeled and cleaned), squid, mussels or diced fish fillet
60 g shiitake mushrooms or mushrooms, sliced fresh coriander and chili peppers for garnish
Fresh coriande and chili peppers as garnish
Lime or lemon juice and soy sauce or fish sauce, to taste
Preparation method:
Bring the water or chicken stock to a boil. Add the spice paste and stir well
Add the prawns and mushrooms and let it cook further
Just before serving, top with lime or lemon juice and soy sauce or fish sauce
Garnish with coriander and chili peppers and serve hot
Ingredients:
Sugar, salt, soybean oil, lemongrass, garlic, shallots, acidity regulator, citric acid, soy sauce (water, soybeans, salt, sugar, wheat flour), hydrolyzed vegetable protein (soy, corn, wheat), chili, galangal, herbs and spices, lime juice, coloring: paprika extract, maltodextrin.
Also known as: Kruidenpasta voor Tom Yum Soep
Country of origin: Thailand
Brand: Asian Home Gourmet
Code: 8886390200068
Content: 50 gr (1.75 Oz)