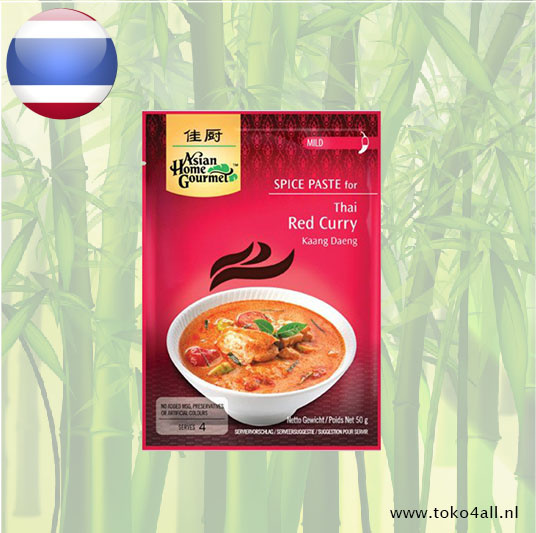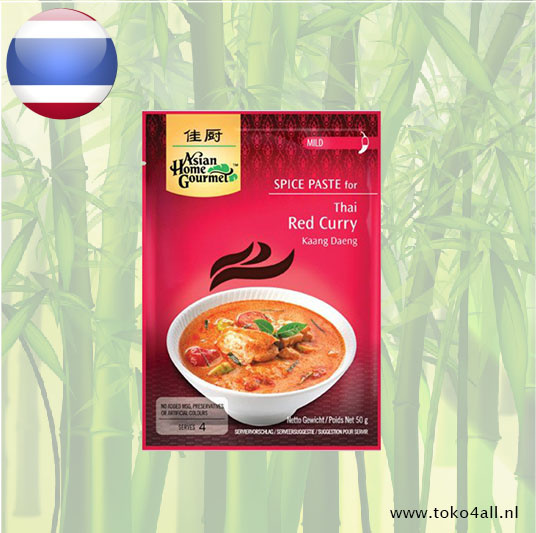 Thai Red Curry Kaang Daeng 50 gr
€1,30
Thai Red Curry Kaang Daeng is the most popular Thai curry. A delicate blend of herbs, spices cooked with coconut cream makes this a favorite with Thai food lovers.
In stock (9)
(Delivery timeframe:1-3 days)
Thai Red Curry Kaang Daeng
The most popular curry in Thailand is the red curry. Asian Home Gourmet Thai Red Curry is a blend of herbs and spices that gives any curry dish a sharp and spicy taste. Try the Asian Home Gourmet Thai Red Curry with your spicy curry dishes – without flavor enhancers, preservatives, or artificial colors
Necessities:
1 packet Thai Red Curry Spice Paste
1-2 tbsp vegetable oil
1 1/2 cups (330 ml) coconut milk or milk
250g (1/2 lb) boneless chicken, cut into bite-sized pieces
150g (5 oz) button mushroom, tomatoes, eggplants, or canned pineapple pieces
Sweet basil leaves, red chili or coriander as garnish (optional)
Preparation method:
Heat oil in a non-stick saucepan on medium-low heat. Add the spice paste and stir fry for 1 minute. Add half of the coconut milk and cook for 3 minutes or until oil appears on top
Add meat and cook for 5 minutes
Add the remaining coconut milk and fruit or vegetables. Bring to a boil. Garnish and serve hot with rice
Cooking Tips:
Beef, roast duck meat or seafood may be used instead of chicken.
Ingredients:
Soybean oil, garlic, cayenne pepper, shallots, sugar, lemongrass, salt, galangal, pineapple juice, dried shrimp, fish sauce (anchovy extract, salt, sugar), kaffir lime peel, herbs, spices.
Also known as: Thai Red Curry Kaang Daeng
Country of origin: Thailand
Brand: Asian Home Gourmet
Code: 8886390200013
Content: 50 gr (1.75 Oz)