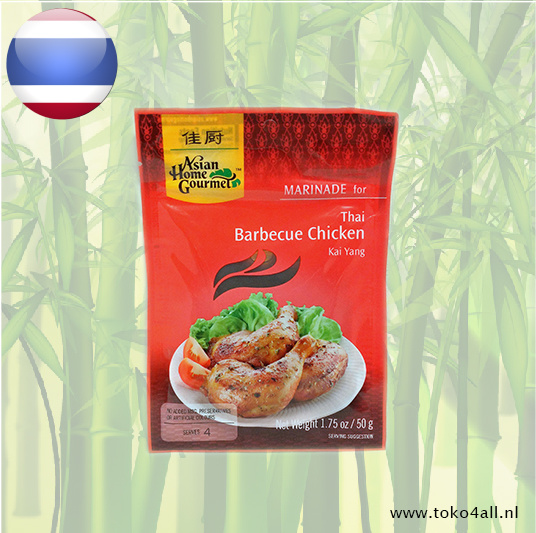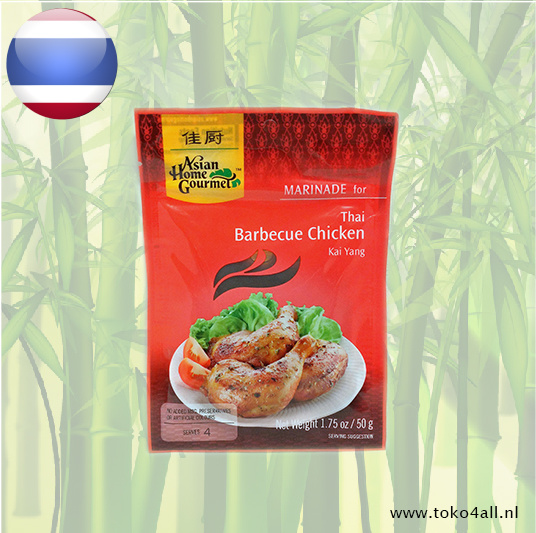 Thai Barbecue Chicken Kai Yang 50 gr
€1,50
Thai Barbecue Chicken Kai Yang marinade is a ready-to-use marinade for a true Thai taste experience.
In stock (13)
(Delivery timeframe:1-3 days)
Thai Barbecue Chicken Kai Yang
Kai yang or gai yang is a dish originating from the Laotian people of Laos and Isan (northeast Thailand), but is now eaten all over Thailand. The dish is a standard staple of street markets and is readily available at all times. Because it is a typical Laotian/Isan dish, it is often combined with green papaya salad and glutinous rice. It is also eaten with raw vegetables and often dipped in spicy sauces such as Laotian jaew bong. In Thailand, there are also many famous Thai Muslim varieties of kai yang which are not of Laotian origin at all, but are more related to the grilled chicken from Malaysia. The marinade is usually used for chicken and this is grilled over charcoal fire. The ingredients of the marinade such as ginger, turmeric, lemongrass, cumin and soy sauce provide a unique Thai taste experience
Necessities:
1 package of marinade
900 g chicken meat cut into pieces or chicken legs
2 tbsp vegetable oil
Lettuce leaves and/or tomatoes as garnish
Preparation method:
Marinate the meat covered in the marinade and oil for 1 hour
On the barbecue: rub the meat at least twice with the marinade and turn it occasionally
In the oven: Roast the meat at 190°C for 30-45 minutes. Rub at least 2 times with the remaining
In the pan: Roast the meat at a moderate temperature until it is golden brown
Ingredients:
Soybean oil, sugar, garlic, soy sauce (soybeans, wheat flour, salt, sugar), salt, lemongrass, coriander, maltodextrin, pepper, turmeric, herbs, spices, mustard.
Also known as: Thai Barbecue Chicken Kai Tang
Country of origin: Thailand
Brand: Asian Home Gourmet
Code: 8886390200037
Content: 50 gr (1.75 Oz)