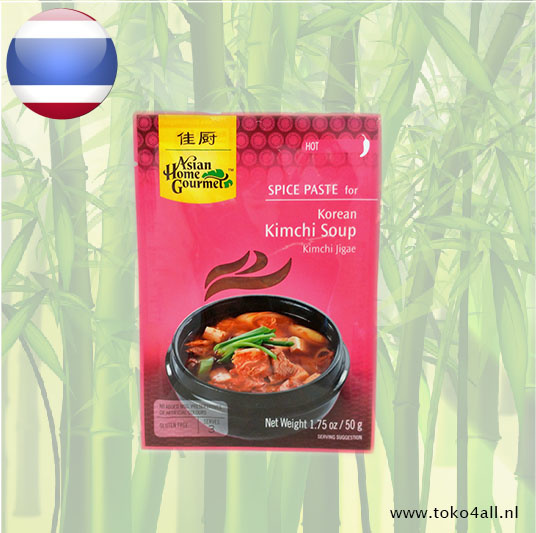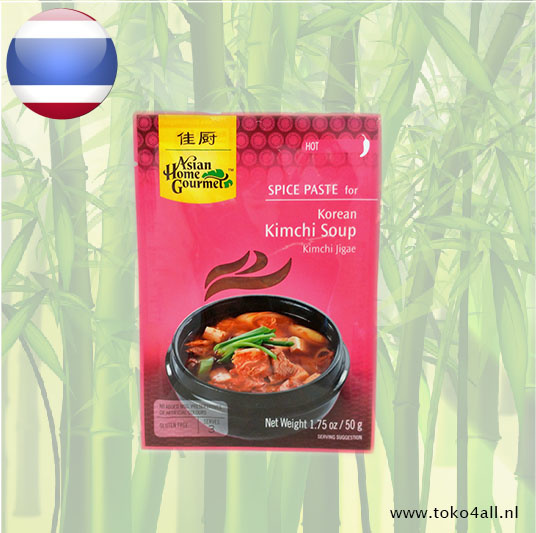 Korean Kimchi Soup spice paste 50 gr
€1,65
Korean Kimchi Soup spice paste from Asian Home Gourmet is a spice blend to make a tasty kimchi soup yourself.
In stock (21)
(Delivery timeframe:1-3 days)
Korean Kimchi Soup spice paste
Oriental cuisine has many secrets, kimchi is one of them. This spice paste is intended to easily make a Korean Kimchi soup yourself. Easy to prepare and a nice variation for the table. This spice blend is intended for a dish for about 2-3 people.
Necessities:
1 packet of spice paste Korean Kimchi Soup
500 ml of water
150 seafood or chicken / beef strips
100 gr Chinese cabbage or kimchi
1 small onion, cut into pieces
Chopped spring onions as a garnish
Preparation method:
Bring water to a boil.
Then add the onion and the spice paste and stir well
Add the meat and the cabbage or kimchi and bring it back to a boil
Let it simmer without a lid on a low burner for about 5 minutes, until everything is cooked
Garnish and serve
Ingredients:
Water, red chili, salt, garlic, sugar, miso paste (soybeans, rice, salt), ginger, fish sauce (anchovy extract, salt, sugar), natural vinegar, sesame paste, shrimp paste (shrimp, salt), sesame oil, yeast extract, acidity regulator E330, kimchi flavor, coloring agent 160c.
Also known as: würzpaste für koreanische kimchi suppe, Koreaanse Kimchi Soep kruiden pasta
Country of origin: Thailand
Brand: Asian Home Gourmet
Code: 8886390205025
Content: 50 gr ( 1.75 Oz)