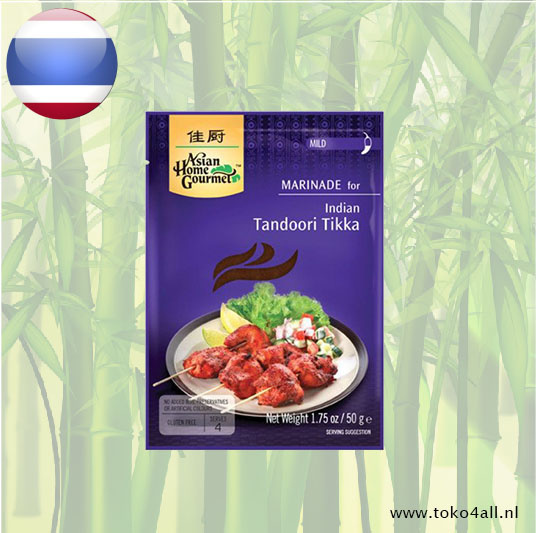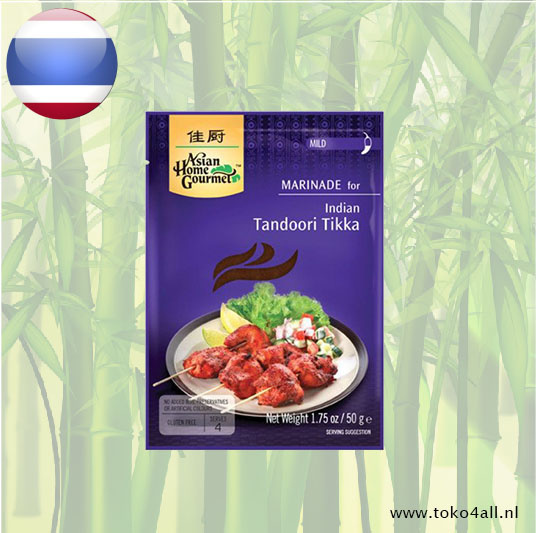 Marinade for Indian Tandoori Tikka 50 gr
€1,50
Marinade for Indian Tandoori Tikka helps you to make a classic North Indian starter of mild seasoned meat. The best prepared with a grill or oven.
In stock (10)
(Delivery timeframe:1-3 days)
Marinade for Indian Tandoori Tikka
Tikka Masala is one of the most famous dishes of Indian cuisine and very popular worldwide. Asian Home Gourmet Indian Tikka Masala spice paste with its perfectly balanced light sharp herb and spice mix of tomato puree, ginger, cloves and turmeric has an authentic Indian taste.
Necessities:
1 packet Indian Tandoori Tikka Marinade
450g (1 lb) skinless boneless chicken or lamb, cut into 2 cm (1") cubes
1/4-1/2 cup (55-110 ml) plain yoghurt, beaten
Butter for basting
Sliced lemon and/or salad as garnish (optional)
Preparation method:
Marinate meat with Marinade and yoghurt. Cover and leave for 1 hour or more
Thread meat onto wooden or metal skewers
To charcoal/electric grill: Grill for 8-10 minutes. Brush at least twice with butter and remaining marinade. Turn skewers occasionally. Garnish and serve hot
Ingredients:
Soybean oil, distilled vinegar, garlic, salt, ginger, ground paprika, lemon juice, cumin, coriander, spices, herbs, red chili, sesame oil, black pepper.
Also known as: Marinade voor Indiase Tandoori Tikka
Country of origin: Thailand
Brand: Asian Home Gourmet
Code: 8886390202062
Content: 50 gr (1.75 Oz)