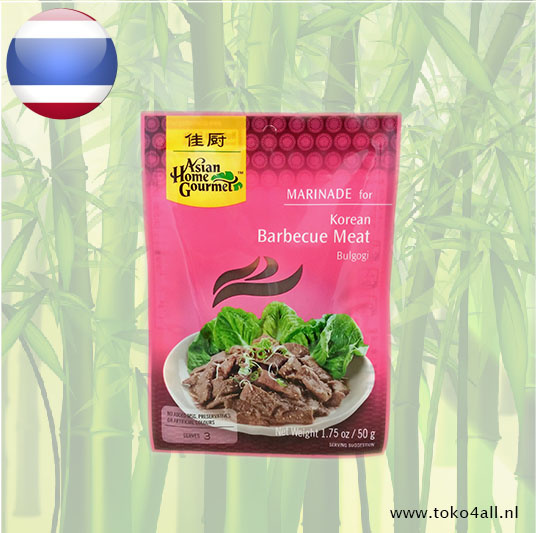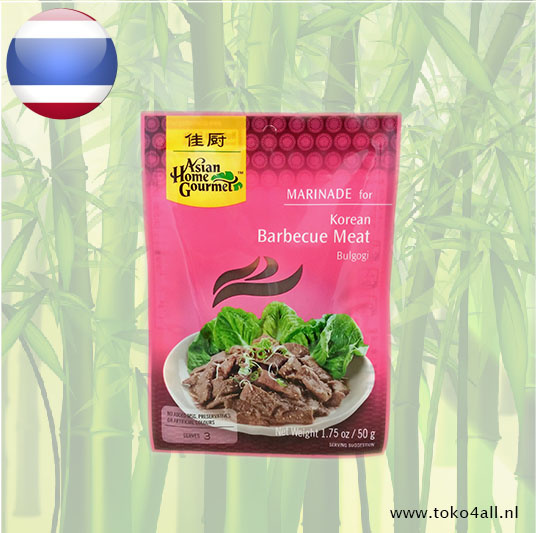 Korean Bulgogi Meat Barbecue Marinade 50 gr
€1,45
Korean Bulgogi Meat Barbecue Marinade from Asian Home Gourmet is a delicious mix to prepare the meat in a different way
In stock (13)
(Delivery timeframe:1-3 days)
Korean Bulgogi Meat Barbecue Marinade
This Korean dish is also known as Bulgogi which literally means fire meat. These strips are thinly sliced and marinated and baked over a charcoal fire. Delicious with lettuce and raw garlic and possibly a red pepper paste.
Necessities:
1 pack of marinade for Korean Bulgogi Meat Barbecue Marinade
350 gr sliced beef
1 tbsp. Vegetable oil
Sesame seed
Sliced green chilies
Spring onions
Lettuce leaves
Preparation:
Mix the marinade and oil in a bowl and roll the meat in it
Cover the bowl and let the meat marinate for at least 1 hour
In the pan: Heat over high heat. Add marinated meat and stir fry for about 4 minutes until the meat is cooked
On the barbecue: Grill the marinated meat until cooked
Ingredients:
Sugar, soy sauce (water, soybeans, salt, sugar, wheat flour), garlic, sesame oil, onions, ginger, black pepper, sesame paste.
Also known as: Marinade for korean barbecue meat bulgogi, marinade für koreanisches fleischgericht bulgogi
Country of origin: Thailand
Brand: Asian Home Gourmet
Code: 8886390205018
Content: 50 gr ( 1,75 Oz)